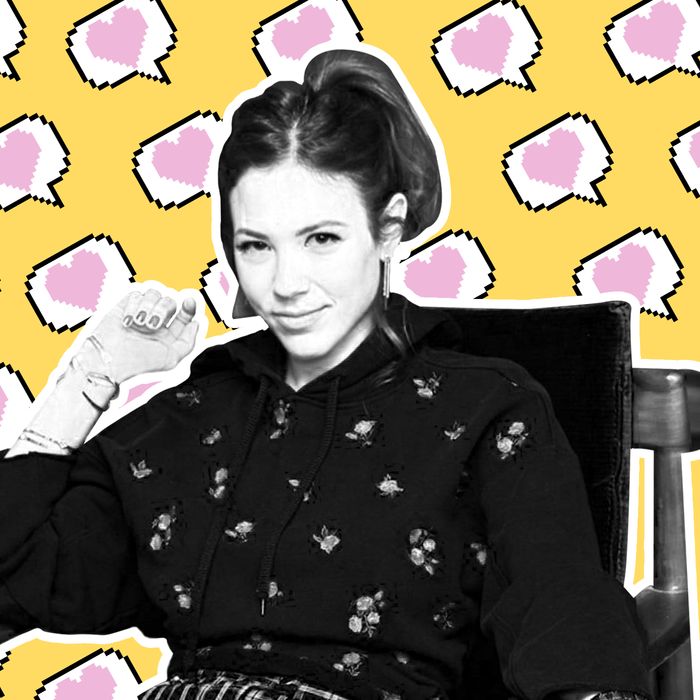 Photo: Courtesy of Lindsey Metselaar
It's basically the year 2020: Sweatpants are high-fashion, your favorite rapper is now a church, and everyone who's anyone is picking up dates wherever they can find WiFi. Whether we like it or not, dating apps are the here and now, and they could very well be the key to your complicated (or currently non-existent) love life. However, we're not naive to the challenges. Between choosing an eye-catching profile pic to figuring out how to navigate privacy, app dating can feel more overwhelming than it really needs to be.
On Bumble, a variety of in-app features are making dating easier, safer, and more genuinely enjoyable than ever. Since women make the first move on Bumble, we sat down with podcast host and modern dating expert Lindsey Metselaar of We Met At Acme for the first of a three-part series on love, life, and relationships worth swiping for. Read on for her hot tips on how to get (and keep) more Bumble matches, starting yesterday.
I'm a huge advocate of app dating because I personally met my partner that way. For people who have a busy schedule and don't have a lot of time outside work, Bumble is perfect. A good Bumble profile is one that showcases your humor and what you like to do. It's easy to find like-minded people when you're putting out the right energy. A bad Bumble profile is one where you give virtually no information, or one where you say you're only looking for something specific. Definitely keep an open mind.
First of all, no selfies! Mirror selfies are even worse. A great profile photo is one of just you with good lighting. This is important because it's hard to decipher which one you are in a group of friends (group shots are only okay if you've already established what you look like). Bumble's photo verification feature makes sure that your photos are actually of you — with the option to request that your matches verify their photos for your peace of mind, too. A great profile pic is a recent (and verified) one — no one likes to get catfished because you look nothing like your photos from 10 years ago.
Bumble badges can be super helpful — they let you feature key qualities about yourself, like a passion for fitness or love of cats — so definitely add plenty to your profile. And if you are passionate about music, why not connect your Spotify to show off your favorite artists? It's just another opportunity to connect on what you both have in common. If that's music, then there's an automatic conversation starter (and potential concert date in the future). If you think your Instagram is an accurate representation of you, then connect that, too. People are going to either ask for it or look you up anyway, so the more you include, the easier that process is for them.
When it comes to your Bumble profile bio, go for fewer quotes and more life experiences. Something like, "I once got kicked out of a hostel," will have people wanting to know the story. In other people's bios, I'd look for something that is a common interest. I also find that it can be so helpful to share your profile with a friend or two, preferably someone of your desired sex. They've usually seen a lot of profiles, and can tell you what is working and what isn't. Make sure you're showing the best version of yourself, and being authentic!
You should be as up-front as you feel comfortable with when you're building your app profile. If religion is a deal breaker for you, then include that (Bumble also gives you the option to filter by religion). And there's nothing wrong with being transparent about what type of relationship you're looking for — but it's also imperative to keep an open mind, especially when you haven't yet met the person yet. We often have no idea what we're looking for until we find it.
Bumble is a great app when it comes to maintaining your privacy because you don't share your last name. You can maintain your privacy by making sure to only share information about yourself that is already available online, or information that you are absolutely comfortable with. The app also has helpful safety tools, like Private Detector, which blurs any explicit images unless you choose the option to view. You can also choose to voice or video call your match from the app, without needing to exchange personal information, before meeting them in person.
I often find that people are a little too strict about their preferences. Maybe your location is only set to a 5-mile radius, or perhaps your minimum age is set a little high. Go in and make these changes, and you may be opening yourself up to a whole new pool of great people.
And don't give up! It's a process. If you're dating in real life, you may get set up with people you're not interested in but not know how to properly navigate that. But when you're on an app, you have already said, "I like this person, and I think this person is attractive," and they have said the same about you. Women make the first move on Bumble, so in a lot of ways, it's more consensual from the start. Since we're all on our phones 24/7 today, Bumble is a great way for busy people to put themselves out there and meet people outside your usual social circle.
Download Bumble and start swiping, here.
This is paid content produced for an advertiser by New York Stories. The editorial staff of The Cut did not play a role in its creation.