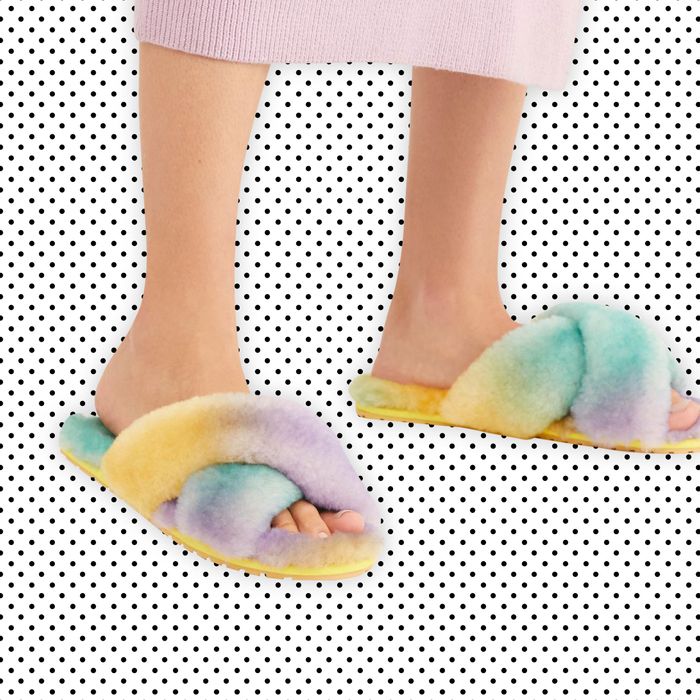 Photo: Courtesy of the Retailer
If you want to gift the feet of someone you like with something a little fancier than the requisite pair of socks, consider a pair of ridiculously soft slippers. In addition to transforming tired feet into two bouncy Muppets, these sheepskin slip-ons are an excellent gift because they're one of those things no one knows they wanted or needed until they finally have them.
After a few wears, you suddenly realize just how cold and hard your apartment floors always are. You start to notice how long it takes to locate two matching socks and then put both of them on (slightly too long). You can't fathom what it's like for your soles to be bare and cushionless anywhere but bed.
With these clouds encompassing your feet, everything you do at home feels about five times cozier than it actually is. Gliding from room to room while staring at your phone, exiting the shower, heating up your mug of tea for the seventh time, mindlessly wandering to your fridge to open it and stare into its abyss. Slipping into these after the workout that is removing any pair of wet winter boots becomes something to look forward to, like finally taking that bra off at the end of the day.
The cherry on top: These cotton-candy crisscrosses come in three different swirls of dreamy tie-dye that are reminiscent of a variety of pick-me-ups, depending on personality: bath bombs, Ariana Grande merch, that rude Frappuccino, Kacey Musgrave's Instagram grid. All pastel possibilities that will please several someones on your list.
If you buy something through our links, New York may earn an affiliate commission.