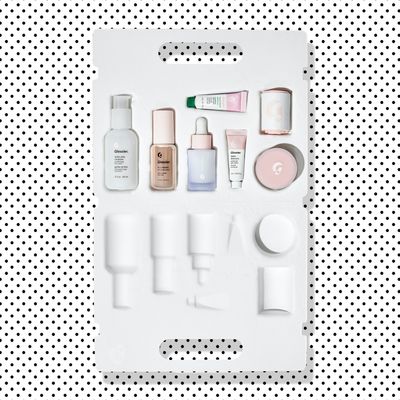 Photo: Courtesy of the vendor
New Year's resolution season is already starting. Can you feel it? Have you seen the headlines? 101 New Year's Resolutions That Are Totally Achievable (although if they were that easy, wouldn't we would have done them already?). 77 New Year's Resolutions You Definitely Won't Break (minus the ones you've broken already, every other year). 33 Style Resolutions for Ringing in the New Year (how about you just get out of here already?). The start of 2020 is going to be rough.
Sure, sometimes it's beneficial to shake things up and incorporate new practices into your life. But sometimes it's okay to stick with what works. Glossier knows this, which is why it's created a set made up of its best-selling skin-care products. Chances are good that whoever you buy this for has already tried Balm Dot Com, Milky Jelly Cleanser, FutureDew, the Priming Moisturizer, and the SuperBounce serum. But chances are also good that they already like them.
Each product comes in — eep! — Lilliputian size, small enough to be extra cute and precious, but large enough to still have practical use value. There's also a millennial pink headband for selfies, plus two flavors of the Balm so they won't too upset when they inevitably lose one. Remaining calm when you lose your lip balm — now that's the kind of resolution we can get behind.
If you buy something through our links, New York may earn an affiliate commission.