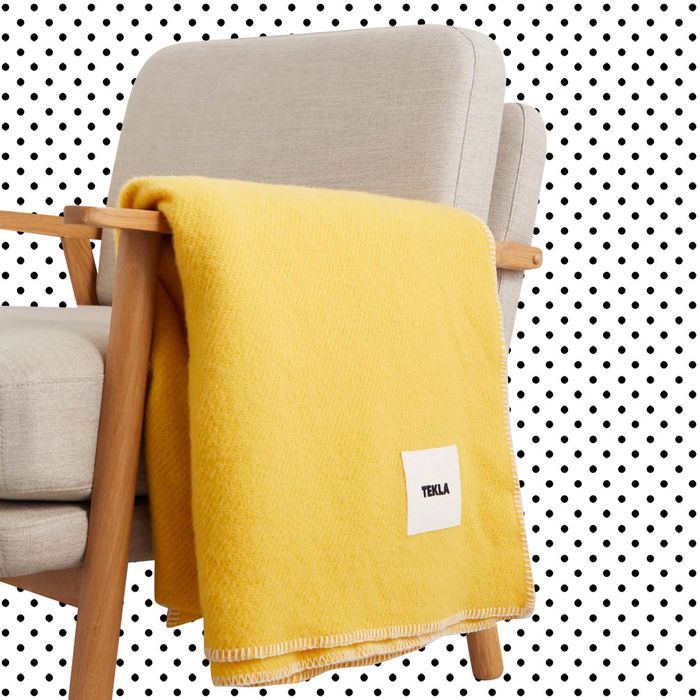 Photo: Courtesy of the Retailer
As we head into the depths of winter, I'm looking to surround myself and my loved ones with all things merry and bright. My apartment is mostly decorated in shades of orange, pink, and yellow — colors I rarely wear, but love to see when I look around the room. It makes the place feel happy and bright even when the heating doesn't quite work well enough to make me feel physically warm.
If you want to give someone a little bit of sunshine this holiday season, might I suggest a bright yellow throw blanket? Anyone whose plans involve snuggling until March with a pair of cashmere socks and a cozy sweater will surely need a blanket. And if that blanket just so happens to remind them that warm, sunny days are ahead, that's even better.
Yes, this particular throw is very yellow. It's really the only design feature, aside from the white whipstitching. But the particular shade is comforting, not confronting. It would be different if you were gifting someone a neon, highlighter yellow blanket — the kind of yellow that says "Warning!" This is closer to the color of an egg yolk oozing out of a soft boiled egg that you're eating for brunch in a warm, bustling restaurant. It's made with 100 percent Swedish wool, certified by Woolmark and made with renewable energy — so it's a bit kinder to the planet than a traditionally made wool blanket. Win win.
If you buy something through our links, New York may earn an affiliate commission.