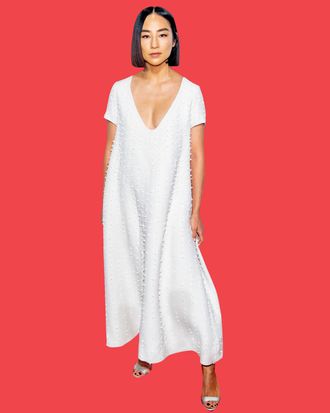 Greta Lee in The Dress.
Photo: www.RoyRochlin.com/WireImage/Getty Images
Fashion icon Tracy Jordan said in 30 Rock, "Dress every day like you're going to be murdered in those clothes." If I were following his advice, every single day I would wear the dress from The Row that Greta Lee wore to the Gotham Awards last night. And then I would upstage everyone by being the best-dressed person at my funeral.
Like all The Row clothes, it's minimal but glamorous — luxurious without being fussy. It could be a wedding dress for an extremely wealthy bride who insists she's "not a bridezilla." The top is almost like a loose-fitting T-shirt, with short sleeves and a deep V-neck. The little white glass beads through the dress are the only embellishment.
The dress made its debut as look 11 in The Row's fall 2019 collection. Lee wore it with sandals, but on the runway it was paired with combat boots, thus proving its endless versatility. It was available for pre-order on Moda Operandi for $7,000 (honestly, cheaper than I expected from The Row, which makes an $11,000 coat.) I'm pretty sure that price is a bargain, because if I wear it every day until I'm 78 years old (average life expectancy for a U.S. woman), it would only cost about 35 cents a day. Factor in the endless days I'd wear it in the afterlife, and it costs practically nothing. Really, I can't afford not to buy it! Thanks, Greta, for bringing this to my attention.