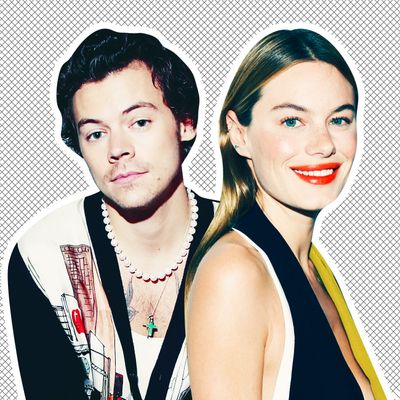 Harry Styles has long-described his new record Fine Line as being "all about having sex and feeling sad." But it's also a lot about about his breakup with Camille Rowe, a French Victoria's Secret model who dated Styles for a year. We don't know much about her, except she once appeared on the cover of Playboy and her simple French Girl Beauty Routine is somewhat complex. And, perhaps most notably, she's also the woman who stars opposite Robert Pattinson in those extremely sexy Dior perfume ads from 2013. Recall:
In the video, we see Pattinson enter an elevator with a blonde woman (Rowe!!) and immediately start (aggressively) making out with her. There's a thrilling choking moment that will make you want to swallow a bottle of Dior Homme.
The campaign didn't make much of a splash when it came out six years ago; we're talking Twilight-era Robert Pattinson and we, as idiots, didn't really notice. But it recently resurfaced as Pattinson was doing press for his new film, The Lighthouse, and went immediately viral. Several people rightly called for Pattinson to win an Oscar for the elevator scene:
And Rowe's life, post-Styles, remains envious: She's also now dating a wealthy gallerist, something that Styles makes petty mention of in "Cherry" — "Does he take you walking 'round his parents' gallery?" he sings in the song's hook. And in a move worthy of legendary pensive man Drake, he also included a voicemail from Rowe — with her permission — at the end of the song. It's in French, but someone on Genius translated it to English:
"Hello! Are you asleep? Oh, I'm sorry … "
"Well, no … Nope, it's not important … "
"Well then … We went to the beach and now we — "
"Perfect! Harry"
The song is certainly cute and wistful. It just won't have me dreaming of Robert Pattinson choking me in an elevator.