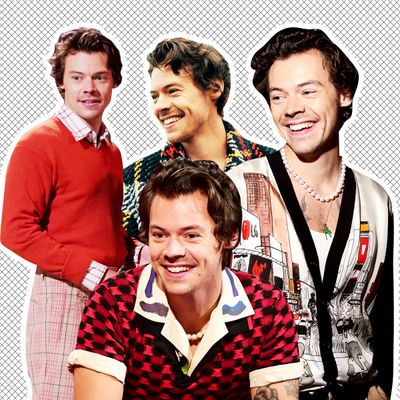 At Harry Styles's "SOLD OUT ONE NIGHT ONLY" celebration in Los Angeles for his new album, Fine Line, a black Lab puppy with a big soft face and chubby paws is the official security dog. As I wait in line and stare at him, he's staring at his chaperone, pure love in his eyes. The puppy's training kicks in when the well-manicured probable model ahead of me drops a bag of gourmet cupcakes. The puppy tries to run toward the cupcakes and is eventually taken on a walk to cool off. He could be a mascot here. The demographic of the Harry Styles's tour kickoff is urgent, excitable sweet tooth.
At the Forum, approximately 17,000 chirpy fans, mostly femme and seemingly circa Styles's age (25), prance into the stadium with birthday-girl energy and new shirts. The shirt with an impressive plurality here is sold at the merch table outside. ("Where are your regular shirts?" I ask two friends who've been on tour with Harry and they laugh and tell me, "In a bag under our seat." Obviously.) Fifteen minutes before his set time, the merch booths have been picked almost clean. Another probable model is wearing eight gold rings across her fingers that spell F I N E L I N E like brass knuckles.
Instead of wearing Styles concert T-shirts, some of his fans are just dressed like him. If you were wondering where all the bright, high-waisted trousers disappeared to on Friday night, they were with me at the Forum. Like the most consuming of crushes, there is a dual impulse to both be and be with. I count at least five imitations of his Gucci huge-leg sailor-pants look from his album cover. A leopard suit from his last tour; the "Sex" shirt he wore on SNL. For the life of me I can't keep a Styles song in my head, but the outfits are emblazoned on my cortex. I was at that SNL taping actually, a fact I forgot until I wrote that down. I am a receptive sieve when it comes to this handsome scamp.
To decode Harry Styles to my date (their cultural interests run more to Björk, 1997–2004, plus 2015), I tell them Styles describes Fine Line as "all about having sex and feeling sad." My date looks at sea for a second and then asks: "At the same time?"
I can't wait to know the answer. I've heard that Fine Line is testing: Can Styles make soulful and patient '70s psych-rock and still make fan hearts' skip a beat in 2019? Styles's fans have flocked tightly around him since his days in confection-pop band One Direction and they stuck close through his eponymous first solo album two years ago: a moody work in the genre of "nonthreatening bad boy." This year, things got freakier. In a Rolling Stone profile, he told a story about biting his tongue while recording and high on mushrooms, so blood came out of his mouth as he sang. Intense, animal, and daring. In honor of Styles's new artistic voyage, my date and I split a mushroom.
The lights shoot up, Styles emerges onto the stage, and there's a collective intake of breath. Actually, the person next to me gasp-shouts "HIS CHEST!" the millisecond before the screams avalanche.
Styles frisks around the stage singing about sex and candy, "Watermelon Sugar," and a mandate of radical softness and euphoria. He moves like a tickle: intended to make you feel giddy and impulsive. And it's felt. Being inside the stadium is like being inside the radiating pink heat of a crush feeling. There's no hesitancy. Fans have come from Brazil and North Carolina. I meet a coven of teens sneaking vodka out of a water bottle in the bathroom, and they tell me they saw him in 2013 with One Direction: "It's full circle." Someone at the front of the pit keeps hoisting flowers up toward Styles, little white, sad carnations. The devotion here is as uncomplicated as I have ever seen devotion. I envy that. The Forum, the entire venue, changes its Instagram bio to "Harry Styles stan account [multiple stars emoji]" in an instant.
The metabolism is also immeasurably fast. As my date put it: "Everyone knows everything in here." His fans know every song in their bones, from an album that was released that day. They shout the words to prove it. On Instagram, I saw a clip of a fan outside saying she hadn't listened yet [AUDIBLE GASPS], and then she explains this will be a special opportunity to hear the album for the first time live [DIFFERENT GASPS, ADMIRING GASPS]. It's a sentimentalist's scene.
People scream the whole time, in addition to bobbling on command and filming. Until Styles, I tacitly agreed that it was a confusing irony that fans screamed over music they wanted to hear. I realize now that he's made music to scream over. This is a universe of their mutual creation, the soundtrack is just the mood cue.
It can be alienating: This is the music that launched a million zillion hearts? But I realize that a crush should not be judged on talent. And Styles is a perfect crush. Slinking around in the drama of big pants and a Mick Jagger femme blouse. He looks like a rascal androgyne, he acts like a romantic, he's all chin scruff and nonthreatening sex appeal.
Because of the pants, he dances in a way that Katharine Hepburn might. There's a feline backward skip that seems to accentuate the knee caps. And other times, in louche-adjacent but ultimately weightless seduction, it seems as if there are string held to the stop of his hip bones. I was thrilled when I read an interview with one of Styles's favored designers, Harris Reed, who said some clothes were specifically flared so Styles could "dance and do his pelvic thrusting, which he loves to do." The creature is a perfect crush.
There's a photo opportunity to stand in Styles's place: a dark-green screen that will become the Tim Walker–photographed Fine Line album cover (floating hand included). People try to imitate Styles's stance, but it's surprisingly tough. I think most people don't put their hips forward enough. No one quite achieves the lightness of the hand on his waist. And the casual point is rendered as finger gun. Styles is a master craftsman of the fluid choreography.
Can you forgive me for waiting until now to tell you that Stevie Nicks descended onto the stage like an archangel? They Landslid together. (Brief history: Harry Styles paid official tribute to Nicks at the Rock & Roll Hall of Fame Ceremony by saying, "She's always there for you. She knows what you need: advice, a little wisdom, a blouse, a shawl"; Nicks mistakenly referred to Styles's former band as "'N Sync.") Nicks — dusky voice even duskier, in high beige boots — sways in front of a mic stand with a thousand sparkling scarves on it. Styles approaches his half of the duet with clarity and practice and he does a worshipful dance at her. This whole place is a devotional practice. I remember that I'm on mushrooms and feel religious about it. When they sing, "I've been afraid of changing because I've built my life around you," I think about Styles and the fans and their adoring fealty.
So the night's heating up. Glitter drops from the ceiling (metaphorically "snow" as Styles is singing "Wonderful Christmas Time"). This is nice. Styles says, "The album is yours; I am yours," so I think it's a Christmas present. I should write a thank-you note.
The Fine Line's tour comes with a take-home message: "Treat People With Kindness," which is incidentally the name of a bombastic choral-influenced song on Fine Line. It's inscribed on shirts and on handwritten signs, helpfully summarized as "TPWK," which is incidentally the sound of someone being punched in the stomach.
With three minutes left of the night, Styles launches into "Kiwi," a song from his first solo album that's famous for making big floors shake. Before the song breaks, I see a pack of girls in sneakers and skirts and jumpsuits carefully clear a wide circle in the pit and then hurtle into it. Will they be able to thrash with kindness and consideration? Of course, they've been studying Fine Line and how to walk it. And when Styles asks them, "Will you dance with me like you've never danced before?" I've never seen such obedience.