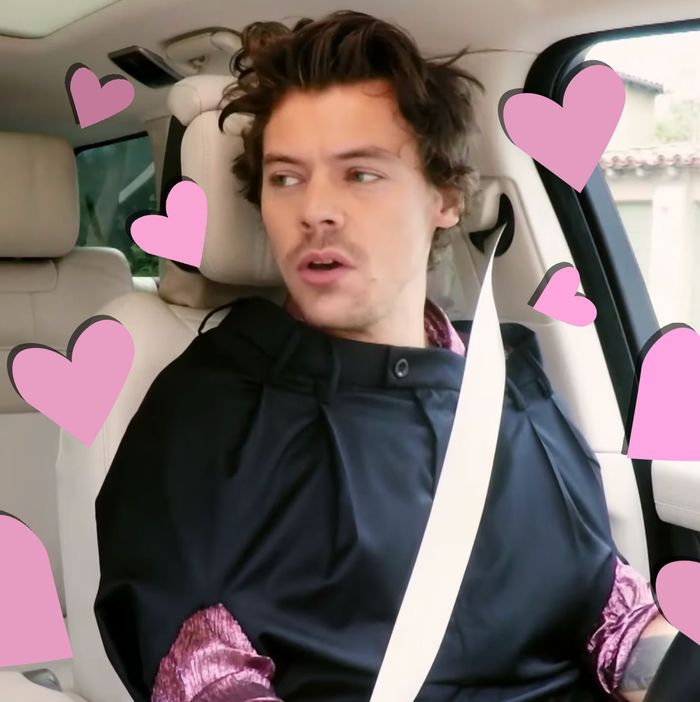 Adore you, pants.
Photo: The Late Late Show with James Corden/Youtube
Hello and happy Harry Styles Day to you! As you know, the noted scream mariner released his sophomore album today. Entitled Fine Line, it has long been rumored to be the product of heartbreak and many, many magic mushrooms. Oh, and pants; pants heavily influenced the production of this oeuvre. You can really hear the pants in every verse.
Harry, of course, has a beautiful cache of cryogenically preserved pants at his disposal, but the ones that hold the greatest sway over him are obviously the ones he wore while guest-hosting the Late Late Show With James Corden earlier this week. During a Carpool Karaoke–esque segment with the real host, Harry's pants just kept creepin' up his body, as if they were made of live kittens and he were holding a yogurt instead of the steering wheel.
Like 48 hours later, I am still thinking — so actively and so, so fondly — about these pants. They've really got a hold on me. And on Harry.
Take "Adore Me," the whimsical video which tells the story of a lonely boy living in a small fishing town. Give it a whirl; that's not the sound of waves crashing into a rocky coast you'll hear, but the rising tide of Harry's waistband. Sweep me out to sea, trouser daddy.
Now, some people have said it's the shrooms that really come through in "Lights Up," the first Fine Line single Harry released. But do you hear what I hear? That rhythmic rustling, the suspendery snap of the beat? It's the pants.
Still others have speculated that "Cherry," the fifth song on the album, chronicles Harry's emotional combustion in the wake of a breakup with his ex, model Camille Rowe. And I mean, maybe? But the most obvious explanation typically being the correct one, I think we all know how to interpret this telling lyric: "I noticed that there's a piece of you in how I dress / Take it as a compliment." I'm sure the pants will.
Then, in "Falling," Harry admits: "You said you care / And you miss me, too/ And I'm well aware I write too many songs about you." About you, pants. About you.
Pants, take the wheel! (They already did.)
— written by Harry Styles's most headstrong pair of pants