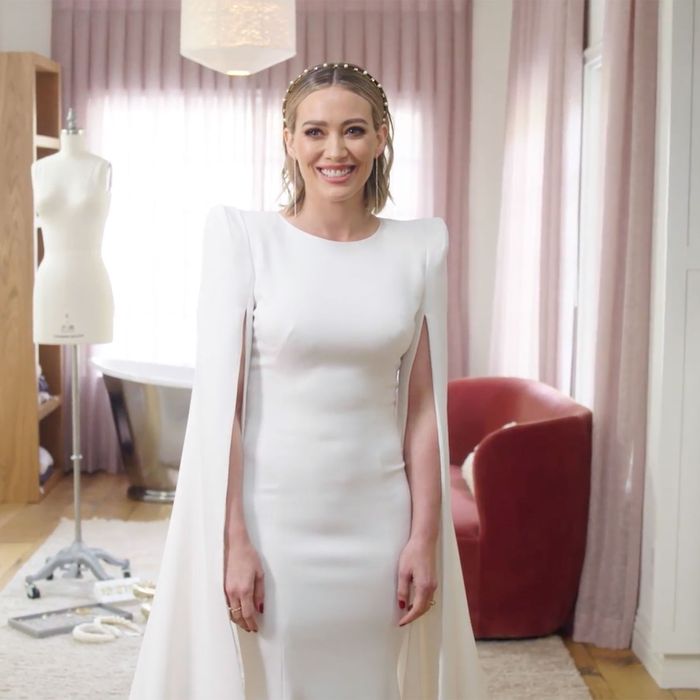 Hilary Duff's wedding may have been "low-key," but her dress had big, bossy shoulder-pad energy.
Duff and her longtime boyfriend, Matthew Koma, wed in an intimate backyard tent over the weekend. The star's 1-year-old daughter with Koma and 7-year-old son with ex-husband Mike Comrie were of course in attendance, as was Duff's sister, Haylie, and fellow pop star Mandy Moore.
Duff's dress was conceived by London designer Jenny Packham, who most famously has made several dresses for Kate Middleton in addition to having her clothes featured on Gossip Girl, where Duff had a recurring role. According to Vogue, the gown features a "stretch Goergette material," "saddle" shoulder pads, and cape sleeves that transition seamlessly into a long, flowing train.
Duff said in a video for Vogue released shortly after the ceremony that she found the dress's shoulders "exciting" and "modern." The actress and singer says, "When we were coming up with the design, it was important to me that it was striking but simple. I couldn't imagine wearing a big fluffy dress." She then explains the dress's deeper significance:
Matthew is very simple, and I really wanted to honor that. I really want to feel like myself, but also how I envisioned he would see me. The end result of what we came up with, with Jenny, is exactly how I wanted him to see me. I think it's how he would envision what I look like as a bride It's really special.
All the structure and simplicity of a husband in a single dress — that's quite a fashion statement.