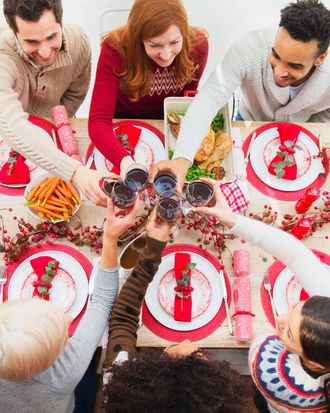 Photo: Caiaimage/Robert Daly/Getty Images/Caiaimage
Two weeks ago, things were different. We were different people then — younger (physically, by two weeks, spiritually, by ten years); more hopeful; more naïve.
It was Thanksgiving, and we were just starting to settle into the holiday season. The month ahead was full of promise. Our packed December calendars looked like a treasure chest full of sparkling social jewels. What would we wear to the company holiday party to casually but firmly upstage our co-workers? Which funny, thoughtful gifts would we present to our loved ones? Which cloying Christmas movies would we watch?
The first parties came and went. Then the second, third, and fourth. There were work parties with middling DJs, Hanukkah potlucks, white-elephant gift exchanges with our friends from college, cookie-decorating parties with children present. Suddenly, every personal and professional sphere of one's life was covered in tinsel and jostling for time and attention.
A lot of these events were wonderful, fun, joyful. But at some point, the bags under people's eyes became more pronounced, their noses got runnier, and revelers became progressively more harried as they scrambled from party to party. People started to feel the pressure of cramming all of their celebrations into the narrow holiday window, as the long, cold, endless night of the Bad Winter loomed ahead.
But why cram? Why not just save some of the parties for January?
For decades, Big December has tried to sell itself as the main month for holiday celebrations. But there is no reason socially or legally (I think) that we can't exchange gifts in January, or even February, no reason potlucks can't be thrown or cookies decorated or sparkles worn after the Christmas trees have been left out on the sidewalks.
There are some holidays in the first months of the year. The Lunar New Year, for example, typically falls in January or February. Generally speaking, though, in the Bad Winter, people's schedules are more open, and their will to live more depleted because they only see five minutes of sunlight a week. January parties are a welcome break, a happy way to embark on a new year.
Increasingly, companies are pushing their annual parties to January, because more people can show up, and booking a venue is cheaper. "Often our clients secure better pricing and incentives on venues, décor, catering, and so on," Kelly Ann Peck, the experience designer at Washington, D.C.'s Something Fabulous, told PartySlate.com this year.
"But what if everyone moves their holiday parties to January, and then January is just as crowded as December?" a man I met at a recent holiday party asked me when I presented him with my elegant solution to our festivity burnout. This wasn't a great question, but I appreciated him engaging with my premise. Change happens slowly, I said. Also, December still has plenty of holidays — there will always be a few parties that month. It just doesn't have to be all the parties.
Maybe you — whoever you may be, an individual, a company, a preschool — are still contemplating throwing a holiday party. If so, it's a little last minute. (Still, that's very sweet of you.) Maybe you were thinking of squeezing it in sometime in the next two weeks before Christmas, crossing your fingers that people would be able to drop in for a bit this weekend, or otherwise hosting it on some chaotic night, like a Tuesday. Why bother squeezing, though? Why not just take it easy, enjoy the holidays, get some rest, and then come back swinging in the new year? Your friends will surely be grateful. And who knows, maybe they'll meet someone in time for Cuffing Season.