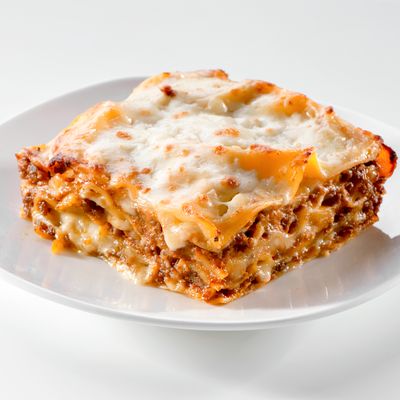 Photo: nickpo/Getty Images/iStockphoto
As the decade passes we think to the future — what trials await us, and what joys. We cannot know, yet the media compiles its 2020-themed op-eds and lists unabated, forecasting trends willy-nilly like a tree shakes loose its foliage. Amid this shamble of fallen and failing predictions one managed to make an impression on me: lasagna.
The Wall Street Journal claims in its fall food-trends forecast that, among other things (Westchester County, all-beef burgers), lasagnas are going to be huge in 2020. They have not run out of ideas, this is merely the truth as they see it. Charles Passey writes for the Journal that lasagna "appears to be gaining ground." (Do go on.) The dish has been prominently featured on several New York restaurant menus of late and Danny Meyer, the man who started Shake Shack, says the lasagna at his Union Square Café is a "hot item" and that he plans to add it to other menus down the line.
Other chefs "find they can take creative liberties with the dish." What is lasagna, after all, but edible layers, probably savory, probably with sheets of pasta. One chef, for instance, serves a white mushroom lasagna at his Sag Harbor restaurant. The Journal's thesis is that lasagna will be the "new chicken parm," a dish with less creative potential and just as problematic to eat right before sex, if you ask me.
But what of the inevitable lasagna surplus as New York chefs go overboard on their way into 2020? Lasagna is a great trend to predict because it has so many uses beyond just being a brick of eventual shit that sits in your intestines for one to five days. For instance, we can build houses with the stuff, or slip them into the coat pockets of our enemies so that when they go to put on their coats they get their hands covered in cheesy sauce meat. With all the types of lasagna that are so ingeniously being fashioned by the city's top culinary minds, we could feed everyone in our communities according to each person's dietary requirements.
Which is all to say: Happy New Year, hope you like lasagna.