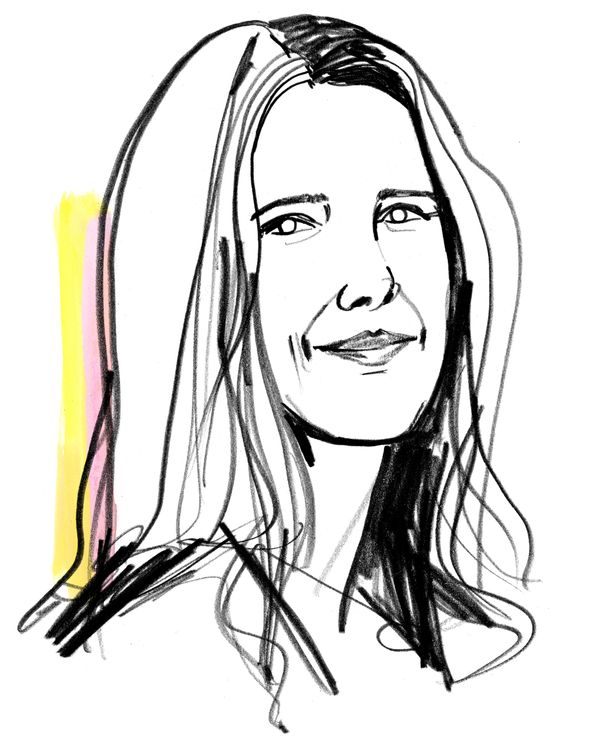 Elizabeth Roberts.
Illustration: Lauren Tamaki
Elizabeth Roberts is best known for her glamorous renovations of Brooklyn townhouses. Dubbed "the titan of the townhouse" by the New York Times, she's the architect behind Maggie Gyllenhaal's Park Slope brownstone, and has designed stores for Rachel Comey and Ulla Johnson. For the past two years, she's been included on Architectural Digest's AD100, which credited her with redefining a certain vision of luxurious New York City living. Roberts lives in Brooklyn and Bellport, New York, with her husband and her son. Here's how she gets it done. 
On a typical morning: 
I'm a person who wakes up in the morning so excited about my day. I'm sort of a geek in that way. Typically, I'll wake up around 6, before the rest of my family, and try to savor the calm. Then I'll have breakfast with my son and my husband. I pretty much eat the same thing every day. I make my own yogurt, which is decidedly un-strained and un-Greek — so, really runny, fresh yogurt, with whatever fruit we have from our CSA. Most mornings I try to squeeze in a bit of exercise between 7 and 8. I'll do the elliptical at home, or jog around the neighborhood, or, if we're at our house in Bellport I'll do some early morning laps in the pool. Then I throw something on and rush out the door.
On driving: 
I managed to find a parking spot near my office, so most days I drive to work. One thing that's weird about me is that I love driving in New York City. I remember the first time I drove in New York, probably 15 years ago, going down the middle of Sixth Avenue. You see the buildings from a beautiful perspective. I also sort of love the challenge. The cab drivers don't faze me. I'm very immodest about my ability to parallel park.
I also do a lot of driving to get to our various projects that are outside of the city, in the Hudson Valley and the Catskills, and also to get to our home in Bellport. My husband's an avid music collector so he makes me great playlists, or I'll listen to The Daily to get caught up on news.
On being a boss:
I really like being a great boss. I'm constantly reading and learning about how to do that better. There's a funny balance between allowing people to make mistakes and not be experts at everything, yet expecting hard work and really good results. But at times, being a boss isn't fun. You have to be the person who bears the bad news or says that something's not adequate. And that part of my job I find really difficult.
Working with high-profile clients: 
I'm definitely somebody who doesn't like to be in the scene. I'm not one for crowds, and I don't know celebrities by name or by face. I tend to feel that if they come to our office, they know that we can help them. And I find that really flattering. I get to work with really interesting people for many years, and I know that we really like and respect each other. But it doesn't necessarily mean that we have to be best friends and go to each other's dinner parties. And I don't expect that from people — which I think makes things more relaxed.
On self-doubt:
Of course I doubt myself. But one thing I know about myself at this point is that I'm good at solving problems. And I think some of the best ideas start with accidents, or with a crazy idea — or, let's not call them mistakes, but complicated beginnings. Perfection is boring.
On ambition: 
I'm very ambitious. I think my ambition comes from waking up in the morning and being excited to do things. It's not about acquiring things or achieving some goal that seems far out there. I'm not very competitive. It's more about figuring out all the things I want to do and getting them done. I really enjoy crossing things off my to do list. And when I've spent a good amount of time imagining something beautiful and talking about it with a client and with my team,  actually seeing it done is such a uniquely satisfying experience.
On work/life balance: 
Architects are known for working all night and not having much of a life outside the office, but that's not my approach. I'm somebody who really loves to turn it off. I try very hard not to work on the weekends, and not to work at night. But I've learned that I also have to take care of myself during the week in order to feel good when I'm not working. So, I try to sleep enough and make enough quiet time during the week, so when time with family and friends comes around, I'm not overly exhausted.
On how she decompresses after work:
I usually race home to make dinner. I eat with my son and my husband pretty much every night of the week. I help my son with homework, and oftentimes my husband and I will watch a film. My husband is a film buff and we're working our way through the Criterion Collection. I try really hard to find time to read before bed. I recently read On Earth We're Briefly Gorgeous, by Ocean Vuong. I love that book.