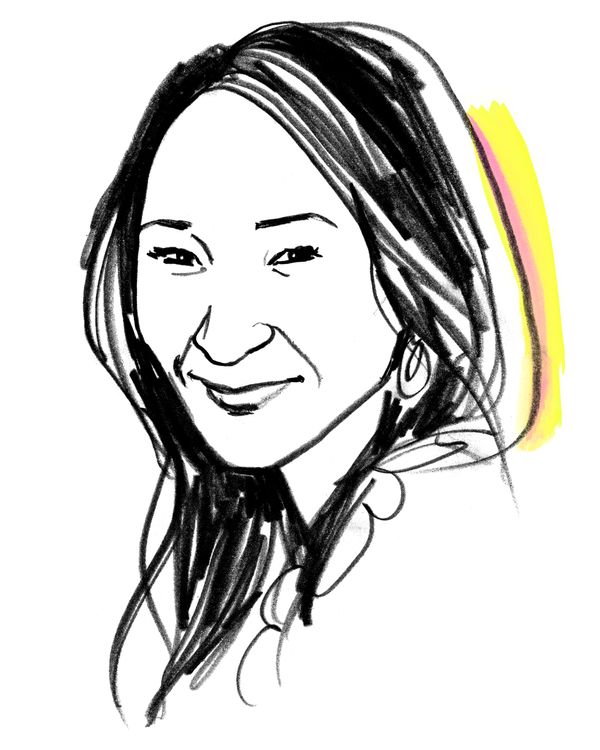 Jung Lee.
Illustration: Lauren Tamaki
Jung Lee is one of the most well-known wedding and events planners in New York City. Her roster of high-profile clients includes everyone from Katy Perry to Ronan Farrow. She's the founder of Fête, an event planning and design firm which was named one of the best wedding planners by Vogue last year. In addition to planning extravagant weddings and other luxurious events around the world, she manages her namesake home design store in New York as well as her wedding registry service, Slowdance. She splits her time between New York City and Connecticut and lives with her husband and two children. Here's how she gets it done.
On a typical morning: 
Today started at 5 a.m. I don't have a typical morning routine, but I love to get my kids ready for school, make them a nice breakfast, spend a little time with them. Unfortunately I can't have dinner with them because my schedule is so random right now. But in the morning, spending 15 minutes with them — just sitting down and having breakfast and having my coffee — really grounds me.
On planning: 
I am a planner by nature. I work best with deadlines that cannot be moved. I sort of knock into each deadline because every day the priorities are constantly shifting. I tell my team on the day of an event, if there are 1,015 details that you're supposed to do, you've got to really understand the key 20 things that have to happen. Because if they don't happen, the rest doesn't really matter.
On staying organized: 
I need to keep things really clean and organized; otherwise I can't function. My calendar is my Bible. I have different groups of my team pulling me in different directions, making sure I get where I need to. But usually, if it's not in my calendar, whether it's a kid thing or a meeting or a call, it won't happen.
On the handling the unexpected:
The thing about the events that we do is that there are no dress rehearsals. It's not like a Broadway show. One time, we were putting together a very, very large ceremony out on the beach. We had about 500 people coming. All of a sudden, this extraordinary gust of wind came and knocked over the entire structure. For a moment, I felt like my career was over. Like, I'm done. We had to run and clean everything up. But in that nanosecond I stopped and thought, You know what? This didn't happen when people were here and could have gotten hurt.
It sounds cheesy, but a sense of gratitude and appreciation for everything that I have has helped me with stress. Things can feel really overwhelming and stressful, but these are great problems to have. That's what I try to instill in my team. I'm just like, "Let's take a pause. Let's recognize the problem and let's be appreciative of what we have." Once we do that for a moment, then we can tackle things together.
On managing different personalities: 
Without question, as a wedding planner, you're a psychologist. The thing about weddings is it all comes out, the good, the bad, and the ugly. I'm extremely loyal and very over-protective of my clients. I'll take the fall — if they were supposed to do something and they didn't, they can blame it on me.
On traveling for work:
I don't love traveling. I try to do day trips whenever possible. I usually either get home insanely late or leave super early. It's not unusual for me to leave at 4 a.m. to catch a 6 a.m. flight. People think all the travel is like a vacation, but it's not. You're not a guest, you're working. You need to go to the bathroom and you really don't have time for that; you're starving because you've been working 13 hours. My team and I are so good at traveling efficiently. We're out of there in the minimal time possible, but also we also make sure we've got everything covered.
On winding down at the end of the day: 
I love a big glass of red wine and watching whatever dumb TV is on. It doesn't even matter what it is, I just have it on in the background. I also love being with my kids and my family and my dog, but that big glass of red wine really helps.