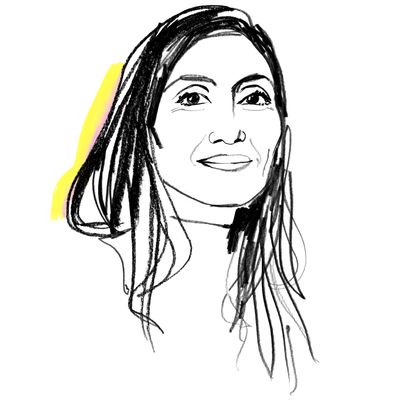 Katrina Lake.
Photo: Lauren Tamaki
Katrina Lake is the founder and CEO of the personal-shopping company Stitch Fix. The premise: Instead of shopping, StitchFix uses algorithms and expert stylists to pick out a box of clothes for you. Then you can try them on in the comfort of your own home, buy the clothes you want to keep, and return the rest. Lake founded the company in 2011, when she was 28; last year, Stitch Fix made $1.2 billion, earning Lake a place on Forbes's list of America's Richest Self-Made Women. She lives in San Francisco with her husband and two children. Here's how she gets it done.
On a typical morning: 
I have two kids, ages 3 and 1. My morning starts when one of them wakes up, which is usually between six and seven. I spend time with them, snuggling and reading books, and then it's about eating and getting them out the door. Somehow, with one kid, it was more manageable. But with two kids, I think, What are the things I need to have solid in my life in order to survive and be my best self? I used to love the hemming and hawing of getting dressed, but I don't have time for that now. I leave the house every morning at 8:30. And I'm still pumping, so that's really fun. Right before I leave the house, I'm usually pumping.
On her love of meetings:
I have a reputation for crashing meetings. I'll look at the calendar and say, Oh, that looks like a cool, interesting meeting. Our team has gotten so big that I don't get to see every single thing we're working on, but this way I can get some glimpses into what each team is working on.
I try to spend a half-day each month in our warehouse. I also style about five fixes a week. It doesn't take up a lot of my time, but it's something I love to do to feel really connected to the work we're doing. It makes me feel inspired and rejuvenated.
On cold-calling: 
I've actually had a lot of luck with cold emails on LinkedIn. People are often sharing articles there, and that's a good excuse to connect. It's not always going to work. There are tons of people I reached out to on LinkedIn who never wrote me back; there are tons of people who reach out to me today that I am not able to write back to. But I think the more shameless you can be, the thicker skin you have, the better. People are going to not write back and people are going to say no, but every now and then someone's gonna be interested and say yes. And you wouldn't have had that chance if you hadn't gotten all the no's first.
On changing career paths:
I was premed in college; I even took the MCAT. When it came time to graduate, I was volunteering in a hospital. I decided to get a job before applying to medical school. I got a job in consulting, and I did that for two years. I loved analyzing businesses and getting to understand how they worked. I thought there were so many interesting challenges in apparel retail. People were trying to figure out what is the role of stores in the future, and how does e-commerce fit in? I wanted to be at whatever company was going to be the future. I left my consulting job and worked at a venture fund for two years, thinking that was a way I could meet the entrepreneur creating the retailer of the future. But it showed me there are lots of other people who were not quote-unquote qualified to be an entrepreneur — which I didn't feel like I was, either.
On starting Stitch Fix:
I felt so strongly that the way people were shopping was not going to be the future. I was like, there's no way that the future of buying jeans is going to be spending a day at the mall or even searching online. Searching online for jeans is a ridiculously bad experience. And I realized that if I imagined a different future, I could create it, so I applied to business school. It felt risky to have a gap on my résumé, so I went to business school thinking, Okay, this is a great way for me to be able to work on [Stitch Fix] for two years. My goal was to be funded, paying myself a salary and paying down my student loans the day I graduated. And if I wasn't able to do that, worst case scenario I'd have an MBA and I could go work at a great company. For me, that was a way to buy time and space to launch a business.
On balance:
I don't love the phrase work/life balance. It makes me think of a scale where it's one side versus the other. I think I need to feel fulfilled in all parts of my life in order to be successful. If I'm not feeling connected to my husband, for example, I'm not going to be the best mom I can be, and I'm not going to be the best CEO I can be. If I'm not feeling connected with my kids, I'm not going to be able to be present and excited and happy to be at work. That's been a really important change for me, to acknowledge what do you need in your life to be your best self?
On winding down after work: 
I'm home between 5:30 and seven. I'm relieving the nanny, getting the kids bathed, getting the kids fed, putting the kids to bed. That's a busy, hands-on time. But the kids are so young that they go to sleep pretty early, so it's really nice to have the time from seven until ten to connect with my husband or catch up on work or meet with friends or watch The Bachelor. Those three hours are really special. That's when I get to do the things I used to have more time for before I had kids.
On date night: 
My husband and I do a date night at least once a week. It might be just the two of us, or it might be dinner out with friends. Once a week, we have babysitting, so that kind of of forces you to get out of the house. Sometimes we'll forget to plan anything, and we'll just walk up the street and have dinner around the corner. But it still feels like an escape and like quality time that you get together, which is so important.