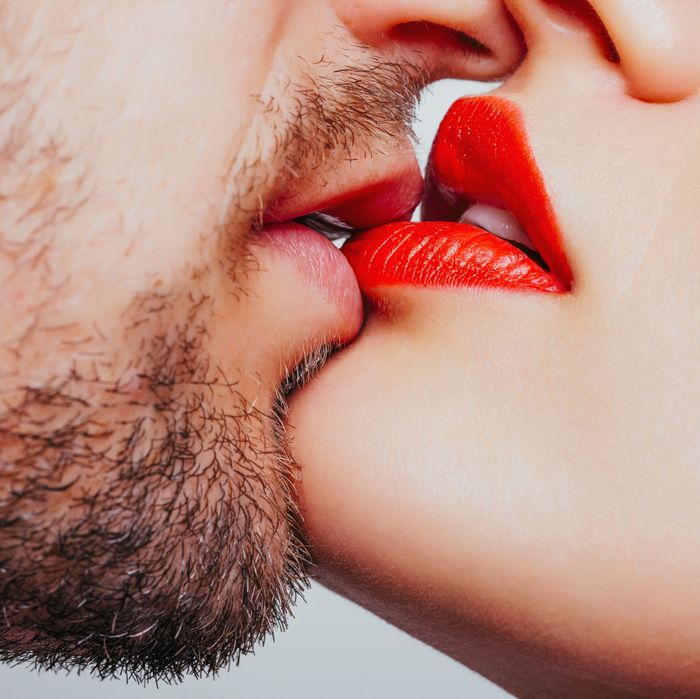 R.I.P. to this chin.
Photo: Mika Knezevic/Getty Images/iStockphoto
The temperature has dropped, and so has the will to do anything other than stay home with whatever mate you've managed to find this fall. Yes, cuffing season is in full swing, and as the nationwide average of makeout sessions begins to spike, so too will instances of an epidemic called beard burn.
"Beard burn is an irritation of the skin caused by your lover's facial hair," says Dr. Manish Shah, a plastic surgeon and anti-aging skin expert based in Colorado. He painted a graphic picture. "The friction of the beard is almost like improper exfoliation. If the beard is dirty or unkempt, you could damage the skin's surface and insert pollutants into the minuscule wounds. It's almost like brushing your face with a harsh brush." The horror!
If you're planning on rubbing your face against a hairier one for the next couple of months, you should be a little proactive about protecting your precious skin. Here are a few ways to prevent potential beard burn until things begin to thaw and ultimately fizzle out.
Ask If the Beard Is Disposable
According to Shah, beard burn is a matter of friction, which means you can get it from basically any length of beard, whether that's sexy days-old stubble or an even sexier long, white Santa Claus beard. "The only way to prevent beard burn with 100 percent certainty is to shave the beard off," he says. (!!!) Completely removing a beard can be traumatizing for both the beard owner and you if you're not entirely sure what's under there, so while this option is the most effective, consider it the nuclear one.
Give the Beard a Skin-Care Routine
It's 2019, which means everyone should have a skin-care routine by now, including facial hair. If the beard is third-wheeling, Shah recommends gently suggesting that its owner 1) cleanse it with a beard wash that includes a conditioning agent to soften some friction, and 2) hydrate it with coconut oil or any of the many beard oils now on the market. Shah recommended the well-rounded one below to our friends at the Strategist.
Be Worse at Kissing
Try standing way too far away from each other or using zero arm/hand contact when kissing to ensure only your lips touch and the rest of your faces do not. Here are more approaches to study when you have some free time.
Lube Your Face
You're probably already lubing your face, so now's the time to turn it up a notch. "It won't be a miracle solution; however, moisturizing will strengthen the skin's natural protective barrier to help offset some of the agitations," says Shah. Level up your usual moisturizer, look for ceramides, and seal all that moisture in with a face oil to brace yourself for beard-y times.
Wear a Ski Mask With a Face Hole
If you have extra-sensitive skin or don't trust a human man to stick to a skin-care routine, consider incorporating one of those creepy ski masks into your makeout sessions. Just make sure it comes with a "face hole" so you can French. This one comes in a convenient pack of two so you and your person can wear them at the same time (cute). They're cozy, "fit for most heads and faces," and "can protect your face from cold and strong sunlight." And beards!!!
Just Do Damage Control
If the above approaches fail, resign yourself to doing damage control. "In the post-beard-burn days, you are going to want to steer clear of alcohol-centric products like toners and acne wash. Avoid fragrances from soap and mists, and refrain from exfoliation of any kind," Shah advises if you don't want the affected area to feel the fire of a thousand suns.
Instead, focus your efforts on gentle cleansing with a calming milk cleanser and moisturizing with soothing gel formulas. When in doubt, Shah recommends turning to eczema formulas because dealing with skin irritation in general is their M.O. They don't need to know that your irritation was borne out of excessive necking on the couch.
If you buy something through our links, New York may earn an affiliate commission.