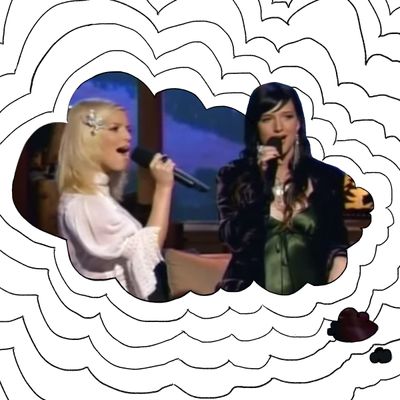 I Think About This a Lot is a series dedicated to private memes: images, videos, and other random trivia we are doomed to play forever on loop in our minds.
I wanted to love Christmas as a child, but I always knew there was something kind of cursed about it. Not just because Santa would have hated my personality, or because I'm Jewish. What was most alarming about Christmas was its contrived pitch of merriment: the fake snow-dusted view into every window, the basic communication skills lost in the din of mannered family melodrama. No art I've experienced to date captures the unconvincing performance of Christmas as perfectly as Jessica and Ashlee Simpson's 2004 duet of "Little Drummer Boy." Part of ABC's Nick & Jessica's Family Christmas Special, the performance now functions as a kind of glittering time capsule: Jessica is still married to former 98 Degrees front man Nick Lachey. Ashlee Simpson is in her prime after releasing "Pieces of Me," hair dyed to offset her famous sister's. Promise rings are all the rage. George W. Bush has just been reelected.
Ashlee and Jessica are ostensibly singing an innocent holiday classic. But what they're really performing is the sincere, uncomplicated relationship with Christmas they clearly wish they had. The segment opens with a sweeping shot of the stage, decked with wholesome holly and aggressively tan furniture. The set looks like a childish dream of what an abundant Christian household should look like. The sisters, flanked by men with snare drums, begin their lingering badumbabumbums, crooning with all the lyrical whininess of an early aughts pop anthem, coating every note in sugar. They pass the lines back and forth like a hockey puck, peevishly nodding and smiling and giving this shit their absolute all. Ashlee is styled like a character from Rent if they were on good terms with their landlord, and Jessica is wearing what appears to be a wedding dress, but only from the waist up. To add to the performance's eerie, posed quality, it's also punctuated with family photos of the sisters as kids: hanging stockings, wearing smocks, hugging, and very earnestly enjoying the holiday.
Just last September Ashlee told Hollywood Life that she would love to do another duet with her big sister, especially one that isn't holiday-themed. "I feel like Jess and I — because we're sisters, our tones sound so good together," she said. I know what Ashlee is doing here: It's a little white Christmas lie, what so many adults do in order to psych themselves up for spending time with their families around the holidays. Like in the "Little Drummer Boy" performance when Ashlee belts with total conviction, "I am a poor boy too badumbabumbum," and you can just feel the underlying contradiction that threatens to swallow up the entire performance as if it were a glass of room-temperature milk left out for Santa.
Need I even comment on how wildly form has been divorced from content? A song about a little peasant boy beating his drum for Jesus this is not. In their delivery, the Simpsons have transformed the carol into a parable of light sibling rivalry and physical discomfort. They both stay painfully glued to their marks but oh do their voices journey, becoming louder and more intricate as the song progresses, an escalation of offerings. I can't help but be reminded of challenging my little brother to street races when we were kids — how out of breath we were by the end of it, how quickly I stopped suggesting them once he grew taller than me. When the song nears its end it's as if the sisters are really saying, "I got this gift for you, it's my voice straining beyond all conceivable limits to carry off this song by myself like a single raggedy reindeer pulling a sled full of gym equipment to Santa's workshop." And yet the performance is laden with weird, accidental pathos. Theirs is a polarity born from intimacy. This isn't Christmas as unmitigated abundance and familial warmth, but Christmas as stressful, competitive gift-giving and hoping that in the years to come everyone will forget how awkward it was. Their performance embodies that wafer-thin line between crushing social obligation and crushing love.
I was introduced to Christmas paradoxes by my grandma, a Central Park Avenue princess of German-Jewish heritage who decorated her evergreen with little porcelain busts of Beethoven and Brahms and insisted on celebrating Jesus's birthday with lox and bagels. We ate better even than Santa. My grandma conducted us like an orchestra — how we "oohed" and "aahed" over her tightly wrapped gifts, whether they were fun, or disappointing, or confusing. The holiday signaled rigidity and rules, but also the fascinating glow of private, particular life that informed our unorthodox tradition. We struggled to make these twin syncopations of family ritual feel all together like an apotheosis of devotion.
One Christmas, when I was about 10 years old, I unwrapped a small present from my grandma to find a square Tiffany's jewelry box within the sparkly paper. I cast her a loaded look like, Is this as special as I think this is? and she returned serve like, Uh-huh, you better believe it, bitch. Trembling with anticipation I lifted the mint-blue lid of the box to find … two silver screws. "Cufflinks?" I asked, not sure exactly what those were. "Earrings," she chirped, her eyes aglow with the satisfaction of having given a perfect gift, and something else — something sincere in quite another way, which put the fear of Christmas in me once more. It was unquestionably a test of my ability to perform nonsense for others. "Try them on," she said. "I can't," I replied. "But thank you." A duet.