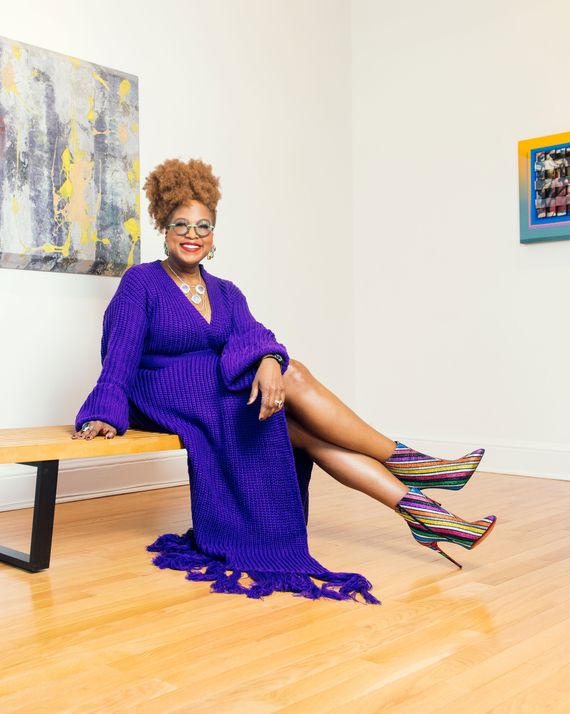 Pictured behind Nelson on left: Sam Gilliam,
A Glistening 
acrylic on canvas, 1969. On right: Todd Williams,
 The Wave
mixed media.
Photo: Gabriela Herman
Marie Nelson's job is about essentially bridge building. Her title is senior vice-president, Integrated Content Strategy for ABC News, and her mandate is to strengthen the relationship between the network and multicultural audiences. Before ABC, she was a film executive at PBS, working on movies like I Am Not Your Negro and Black Panthers: Vanguard of the Revolution. The rest of her résumé is just as impressive: She produced a live town hall called America After Ferguson for WGBH, and has held positions at Viacom/BET, NPR, and as communications director for the U.S. Department of State's special envoy to the Sudan.
With 1-year-old twins at home and a job that requires frequent travel — she goes from D.C. to New York on a weekly basis — Nelson doesn't have a lot of time to think about what she's going to wear to work. But even so, she describes her sense of style as "fearless," accessorizing with funky eyeglasses and statement necklaces. We spoke with her at Peg Alston Fine Arts, a gallery on the Upper West Side of Manhattan, about the clothes that make her feel powerful, the shoes she wears to make dealing with TSA a little bit easier, and how to elevate an outfit with minimal effort.
On her everyday shoes: I think of shoes as the ultimate accessory. I love variety and a sense of surprise. Jeffrey Campbell platforms are works of art and I have a great oxblood patent leather pair that I call "the mullet." They look like tasseled business loafers up front, but then you turn around and they're actually skyrocket-high platforms with a braided stitch up the back. I am also obsessed with knee boots. I am loving my Sam Edelman snakeskin-print boots — they have a very high visual impact that wakes up any work outfit.
I travel weekly between Washington, D.C., and New York, and comfort is key when you are running through airports. But even when you're wearing comfortable shoes, you can still have some fun. Many TSA agents probably know me as the woman with the giant pompom sneakers. They're made by UGG so you know they are like walking on a cloud.
Shop Statement Necklaces
On how to spice up an outfit: Since I'm always on the go and time is precious, I have become the queen of the quick change. Throw on a crushed velvet cape, a kimono, or a statement necklace and you can transform any outfit and transition to almost any evening event. Etsy is my not-so-secret weapon for finding fun and unique pieces. I have a piece that I call my "Power Pose" jacket. It's a black Gracia jacket that has an origami-like sculptural lapel and a futuristic peplum. That sense of structure and edge gives me that Wakanda female-warrior feeling when I walk into a room.
On how being a mom impacts her wardrobe: I am the proud mom of twin 1-year-old girls, Cleopatra and Coco, and if it were up to them I would wear my onesie pajamas all day. I think they can tell that when Mama gets dressed it means she is leaving, which is heartbreaking. So, I try to make getting ready for work feel like a game of dress-up. As a visual, creative person, I dress to reflect that and to inspire myself to bring that energy into my work. As a journalist and an executive, I used to think that you had to dress a certain way to be taken seriously. Now, I know that real power rests in one's ability to move through the world from a place of authenticity and confidence. That is what I try to tap into each day and I hope that is the legacy I pass onto the girls.
On her personal style: I used to have periods when I would wear one predominant color palette or style influence. Now, I am most comfortable with an eclectic mix — global meets modern meets vintage. I also refused to wear eyeglasses during most of my 20s and now I can't imagine life without eyewear. I have more pairs of glasses than I am prepared to put on the record. If I'm running late, my go-to outfit is hands down a pair of black palazzo pants, a sleek turtleneck, a statement necklace, and a pair of limited-edition Doc Marten's — like my silver wingtips. Form, function, and fun in a flash.
On dressing for a flight: I am a frequent traveler so I do my best to pack as light as possible. I only travel with a carry-on to hold my laptop. My two indulgences are that I travel with a large jewelry bag and I always carry a different bottle of perfume. Most often, I head straight into the office from flights so I have to be dressed and ready for action.
On the highs and lows of her job: I love everything about storytelling — the people, the process, the beauty of words, the power of voice and moving images, the heft of the topics we explore. There is no better feeling than helping bring forward stories that move people out of the shadows of invisibility and help create understanding. Working against the backdrop of the persistent and pernicious racial divide in our country just reminds me of the importance of our role as journalists. We have to continually challenge ourselves to examine, inform, and serve our audiences across difference.
Shop Palazzo Pants
If you buy something through our links, New York may earn an affiliate commission.