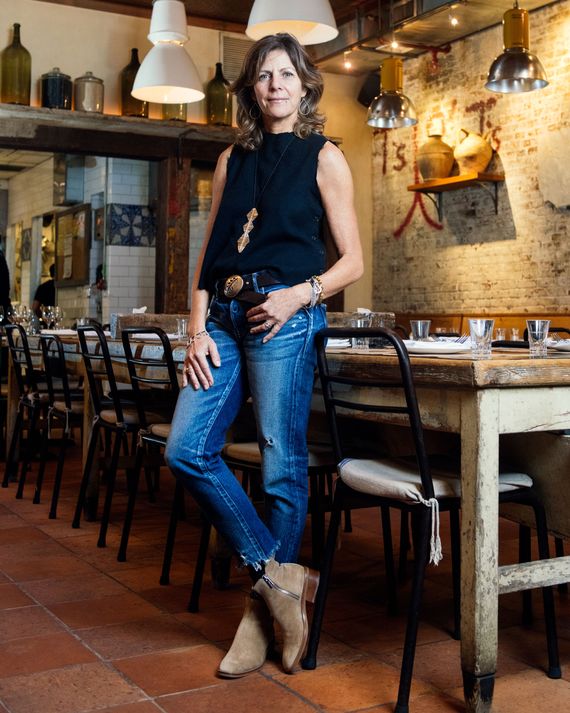 Donna Lennard was doing rustic long before it was cool. Her vintage store turned restaurant Il Buco has been a New York hot spot for 25 years. In addition to the original space on Bond Street, there's now Il Buco Alimentari e Vineria and an outpost in Ibiza. And a generation of chefs who were trained at the restaurant has gone on to open buzzy spots like Estela, Café Altro Paradisio, or Buvette. She also runs a line of homewares, called Il Buco Vita.
Lennard describes her style as "casual, downtown, and natural," but it's also surprisingly unpretentious for a woman running multiple companies. Whether she's in Ibiza or on the Bowery, it doesn't change too much: tunics, leggings, and sandals or boots. For special occasions, she breaks out pieces from designers who conveniently have stores near her restaurant: Ulla Johnson, Maria Cornejo, Phillip Lim, and Rachel Comey. "I've always had the same priorities around style and dressing, but perhaps shopping with my favorite clients allows me to spend the time choosing a wardrobe from a mix of their shops," she said. "I often barter, which adds some old-school fun." We spoke with her about her clients, what to wear on a work trip in Ibiza, and the importance of weekends.
On her everyday shoes: I'm very lucky to live above my workplace and do a good deal of work from home on a given day. When I'm not home, I'm running back and forth in the two-block radius between the restaurants and my home-line store. In the summer, I definitely just wear flip-flops or my handmade leather sandals from Greece or Spain. In the fall and winter I love my cowboy boots or a pair of fancy high-top sneakers by Philippe Model. In cold weather, I sometimes throw on the Uggs that my son talked me into — they have become my winter flip-flops.
On dressing up: I love to wear clothes by Maria Cornejo. Her jumpsuits and tunics are some of my favorites. They're easy and comfortable and stylish at the same time, and her fabrics feel wonderful. My other staples are Maria's wonderful leather leggings with an easy tunic thrown on top and a pair of short black boots. I love a great jacket thrown over jeans — just bought one from Dear Rivington that's Japanese and handmade, with wide button-up sleeves. You can also find me in a feminine blouse or skirt by Ulla Johnson or a great, fun Rachel Comey piece.
If I'm going out after work, I definitely change and put on something fun and festive, get out of the flip-flops and Uggs and put on a small heel and change the energy. My favorite designers are Maria Cornejo, Nili Lotan, and Philip Lim, and sometimes other local stores Ulla Johnson and Rachel Comey. Love an occasional Maison Margiela.
Shop Feminine Blouses
On packing for work trips: Nowadays, travel for work usually means a hop over the Atlantic to my new outpost in Ibiza. There the weather is almost always either mild or hot. If I'm in the restaurant, I want to look my best for the clients as well as my staff. Still, my style is light and easy: something flowing and structured, with mostly flat shoes or great sandals. A long skirt or easy sundress and even the flip-flops during the day. And lots of linen.
On not dressing to impress: I'm mostly with my staff during the day and saying hi to clients coming in for lunch. I want my clothing to represent my style, since my brand is about a certain feeling: casual but tasteful. We often call it "downtown shabby chic," hopefully with a bit of personality. I see clients spontaneously all day long, whether it's Gabriel Byrne or John Derian for breakfast, Chuck Close, Lauren Hutton, Jason Momoa — there's a plenitude of designers, artists, and celebrities. After 25 years, I don't dress to impress. The most important thing is making everyone feel at home, appreciated and happy.
Shop Zero+ Maria Cornejo
On the best parts of her job: Seeing clients happy. I love to see people seated at different tables recognizing one another across the room. Whether they're eating and drinking with a group of friends or a loved one, or picking out a piece of glassware or ceramics to bring home, I want my clients to enter into an experience that enriches them.
On the challenges of her job: I'm running four companies and I'm a single mom, devoted to time with my son, so sometimes it gets stressful. The challenge is to ensure that my clients, staff, and most of all my son feel that I'm present and available. I'm adamant about traveling on all of Joaquin's holidays, whether that means jumping on a plane or driving out to our beach house. The weekends too are sacred and I protect that time ferociously. Three-to-four yoga classes a week are a must.
If you buy something through our links, New York may earn an affiliate commission.