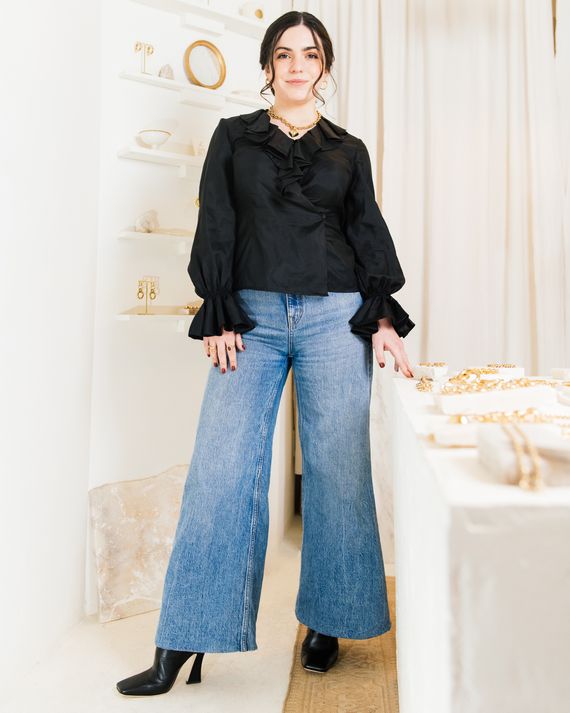 Laura Lombardi's jewelry quickly became a hit with buyers and fashion people after she launched her eponymous line as a side project in 2010. Her designs are mostly made with recycled raw materials — a lot of brass — and convey a streamlined vision of la dolce vita. Lombardi's father is Italian and lives in Italy, while her mom is American, and both elements of her upbringing are apparent in her work. The rich, warm, bold Italian aesthetic is clearly present, but the pieces are wearable enough for every day. Many of them are a throwback to the bold chains and hoops of the '80s, in a contrast to the beyond-dainty jewelry that's been so popular lately. Tracee Ellis Ross, Emily Ratajkowski, and Kendall Jenner have all been spotted wearing Laura Lombardi earrings.
The line is stocked at the Frankie Shop in New York and in boutiques as far-flung as Oslo and Tokyo. Recently, Lombardi launched a shop of her own, at 16 Clinton Street in the Lower East Side. We caught up with her before the holidays to talk about her typical outfits, what she loves about her job, and packing for flights.
On her everyday outfit: I'm always in boots or sneakers. My favorite boots are LoQ or About Arianne; for sneakers I get my Nike's from the children's department. I dress for the day. I'm usually heading out straight after the studio, so I gravitate toward things that I can work in comfortably and that can be dressed up quickly with jewelry.
On traveling: For work trips, I'm usually out of town for over two weeks at a time, so it's a "checking multiple bags" situation. In flight I like to wear supersoft denim, boots, and an oversize top. For longer trips, I really feel the need to make the space I'm staying in feel like my own, so I bring things like my favorite teas and incense for the duration of the trip.
Shop Sleek Black Boots
On her daily jewelry: I'm never without my signature earrings, and also love to pile on chains. I either wear the Isa Chain with a pair of earrings like the Spira Hoops, or stacked with the Rina Necklace and a smaller hoop like our Mini Etched Hoop. Lately I've been living in our Luisa Necklace. The rings I wear daily are all antique or family heirlooms.
On her day-to-day schedule: When I'm in the studio, I like to arrive early and get settled into my day. I have a quick touch-base with my team once everyone gets in about our plans for the day, upcoming deadlines, and projects. Every day is so different depending on what arrives in our desks, but I generally spend most of my time in studio either working on production management, fulfillment, or seeing that everything is in its right place and moving on schedule. Now with the store, I like to spend at least one day a week working in the showroom and meeting our customers. From meeting long-term customers to our new neighbors, it's been the most fun experience to have this space and to connect with our community in person.
When I'm traveling for work, depending on where I am, I'm usually in a showroom taking appointments or in production meetings, going to dinner with friends or family at night. I mostly see my team members all day. I dress for myself.
Shop Oversize Sweaters
On the highs and lows of her job: I love the ability to do creative work, collaborate with people I respect and admire, travel, and build meaningful partnerships and connections with our clients and collaborators. The biggest challenge is finding any time for my personal life.
On personal style: It honestly hasn't evolved much. Since I was a teenager, year after year I've been wearing slight variations of and making small adjustments to the same look. Being a bit of a uniform dresser, there's rarely any stress about getting ready for the day.
If you buy something through our links, New York may earn an affiliate commission.