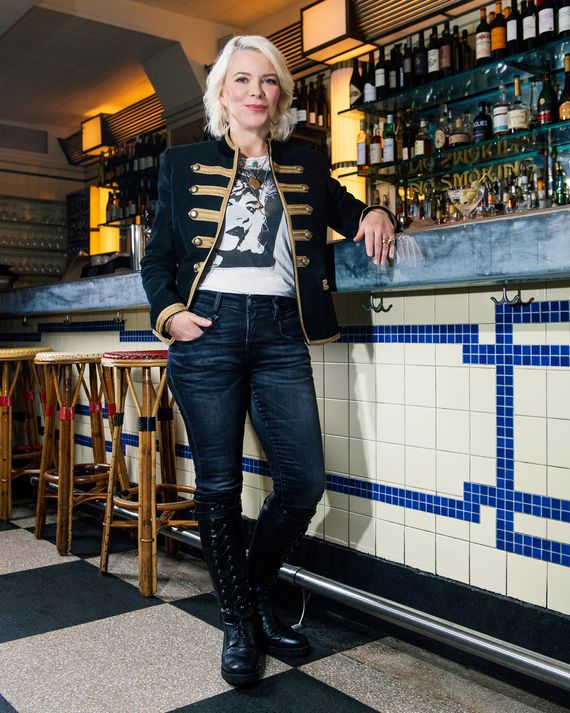 As producer Wren Arthur puts it, her job allows her to "plot and scheme with like-minded people every day." A two-time Emmy winner, she's known for her work on Prairie Home Companion and the film Puzzle and the production company she co-founded and now runs with Steve Buscemi, Olive Productions. Before starting the company, she worked with director Robert Altman (who made M.A.S.H and Popeye). Recently, Olive Productions closed a deal with TBS and TNT to bring various, yet-unannounced series to the networks.
She splits her time between New York and Los Angeles, and as a result, she has a set idea of what to wear on planes. Her signature style, though, is inspired by French New Wave actress Jean Seberg in Breathless or punk icon Debbie Harry — biker jackets, striped shirts, and tuxedo jackets for fancy events. But being a true bicoastal woman, she always has a crystal in her pocket and Yogi Tea in her carry-on. We spoke with her about her go-to shoes, creative people, and leather pants.
On her everyday outfit: My day-to-day ranges from Puma classic black suede Clydes, to Gucci's Marmont boot or shoe, or motorcycle boots. My wardrobe does not differ, really, when I travel — it just depends on the weather in New York or L.A., and then on set or location.
I mostly just dress for the day, and when going out after work, I usually just add makeup or bring a jacket or fancier shoe. I like to feel tough and sexy at once, with a motorcycle jacket or a leopard velvet blazer. My signatures are a French fisherman striped boatneck, a black cashmere turtleneck, or an R13 band tee. And for shoes, I'll usually wear a platform boot or shoe.
Shop Striped Tees
On dressing up: My usual outfit for an important meeting depends on my mood. Leather jeans or a black cigarette pant, a striped tee, a tuxedo blazer by Alexander McQueen with crazy shoulder pads. Sometimes I'll wear dresses. I like something feminine from Khaite, Zara, HVN, or Ulla Johnson. I add edge with a motorcycle jacket and knee-high Prada biker boots, or any of the other shoes mentioned except the sneakers. I can't do the sneaker-dress thing unless I am at a beach.
On the best parts of her job: I get to be passionate and curious for a job. I get to meet and work with such wickedly talented artists of all kinds, all with incredible imagination and passion. I get to be provocative every day … to plot and scheme with like-minded people. The people I meet with and talk with are writers, directors, actors, producers, playwrights, journalists, novelists of all ages and shapes and sizes. It is fantastic fun on a good day.
On traveling for work: I pack and carry crystals because they're calming and make me feel good. I also bring a room spray and my own tea by Yogi. I always fly with a scarf that I spray with my perfume because I may need to hide away from smells. On a plane, I dress in black jeans, a comfy tee or sweater. I like a flat mule but will also do a short boot, or Pumas.
When I am traveling, I am usually running from meeting to meeting, and since L.A. is huge, a day of meetings can take me from Downtown L.A. to Venice to Burbank to Beverly Hills and back to Santa Monica. I can have up to four to five meetings in day with working drinks or dinners, so I'm in and out of Lyfts endlessly. I stop at each place and hit the bathroom prior to the meeting (I am chronically on time), and I refresh my face and give myself a minute to regroup. Back in NYC it's not nearly as hectic. I don't have to cram in meetings, I can take my time, and I usually land at Soho House and have folks come meet me there. Basically, I get to talk and/or read all day.
Shop Biker Jackets
On her signature style: I dress for myself to make me feel good, strong, confident, pretty, and chic with a little edge. I usually have on one item that stands out. I hope that the way I move through the universe — on a good day that's with grace, humor, and an open mind — radiates out and is felt by the people I encounter.
If you buy something through our links, New York may earn an affiliate commission.