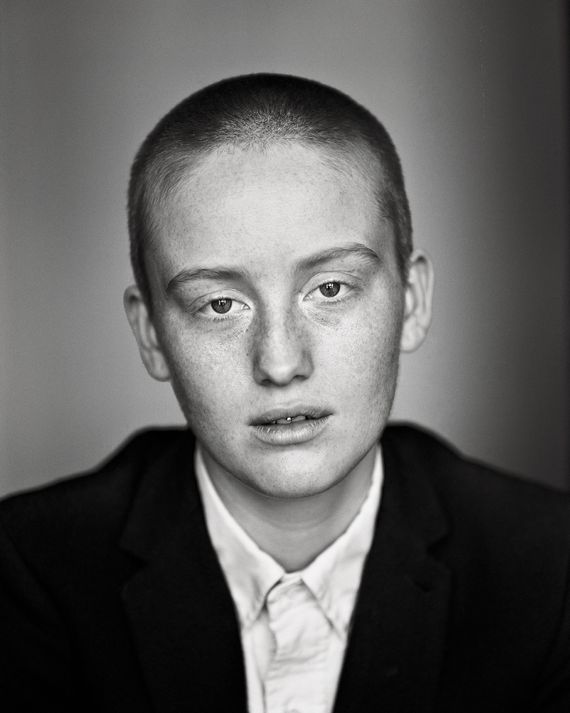 Photo: Michael Bailey-Gates
Bobbi Salvör Menuez is standing on a table at Lee's, an event space in Chinatown, in toe socks and a Fear Factor T-shirt, carefully sprinkling pigeon feathers around the place settings. "They're from a friend's rooftop coop in Bushwick," they say, nudging a feather toward the centerpiece, a carefully considered mess of dirt, daisies, and metal containers, with a foot. Behind Menuez, 26, the artist Precious Okoyomon deposits a tray full of greenish globes into the freezer. "That's for the sixth course," Menuez says. "The cold-pressed-cucumber­ ball gags."
The artist, model, and actor (most recently seen on HBO's Euphoria) is preparing for a convening of the MSG Club, a conceptual dinner series founded by L.A.-based artist Glenn Kaino and chef Niki Nakayama, and Menuez's new queer food project, Spiral Theory Test Kitchen. On the menu: a 14-pepper fermented "bondage" pigeon (tied up with string to mimic a harness) served on socca bread with a Scotch-bonnet-cantaloupe jelly (a dish Spiral Kitchen has named "Pleasure is always bound/unchecked blooming") and maple-rose-pear kombucha with a red dragon-fruit rim ("Nothing ever goes wrong"). The expected guest list — an intimate group of 16 of MSG's and Spiral Kitchen's friends — includes the artist Maia Ruth Lee and the 75-year-old actor Frank Oz (who later takes a game lick of the cucumber ball gag before politely setting it back on his plate).
Menuez started the collective a little over a year ago while on a self-imposed break from acting, modeling, and anything self-promotional. The child of two artists, Menuez grew up in Chinatown and Park Slope and became a public figure — or a downtown New York public figure, anyhow — at 19 with the Luck You Collective, a crew of 19-to-21-year-olds (Henri Matisse descendants Jack and Louis Shannon and the filmmaker Adinah Dancyger among them) who, as the New York Times put it in 2013, "organize art shows, run zine workshops, and bring together the bright young things of the downtown art world." Menuez (who, at the time, used their birth name and the pronouns she/her) went on to become the face of Miu Miu's 2016 global campaign, appeared on the cover of Dazed (photographed by Ryan McGinley), and began booking more film roles: Amy Adams's daughter in Tom Ford's Nocturnal Animals, a three-episode arc in Jill Soloway's Transparent, Toby in Soloway's I Love Dick. Menuez was the definition of early-2010s cool: Petra Collins's muse and an " 'It'-girl model-slash-actor-slash-artist" who was, as everyone said, well positioned to become the next Chloë Sevigny. Until, one day in the summer of 2018, after filming a role in Rhys Ernst's Adam and shooting with Hermès, Menuez stopped.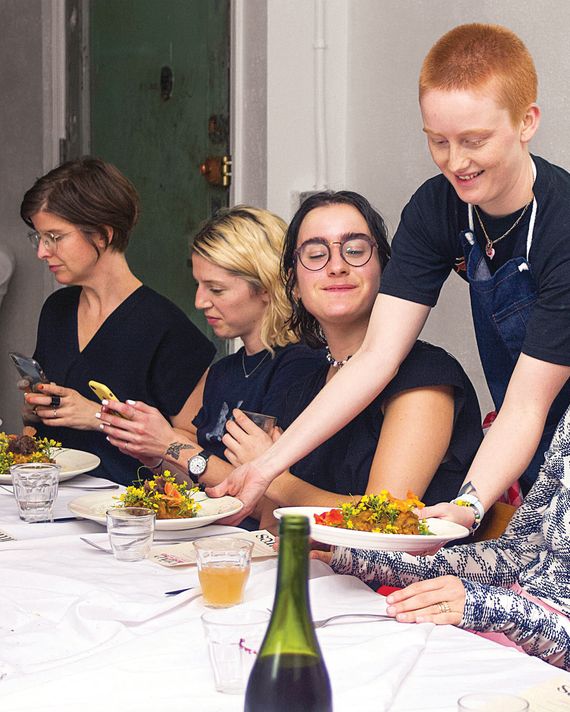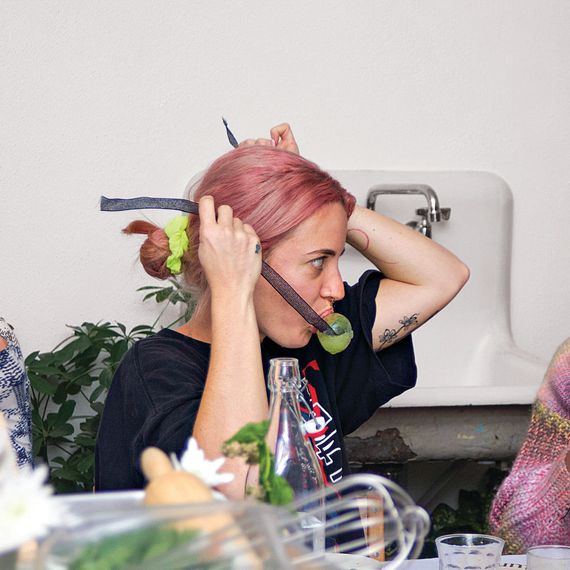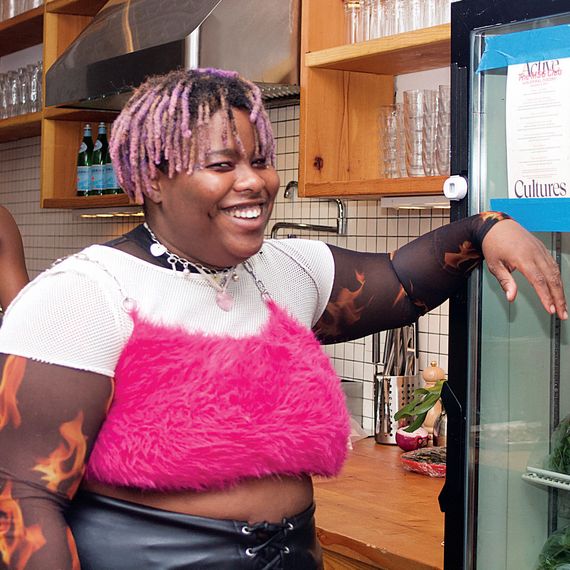 Back in the kitchen, Menuez, Okoyomon, and the collective's third founder, Quori Theodor, cook without aprons. "Why is it so stunning?" Menuez says, walking over to admire a pig's heart that has been cured with sourdough. "I am really impressed with this heart." I ask where it was procured. "A butcher on West 4th," Okoyomon says. "They'll sell you anything: blood, guts. Once, I went to this place upstate to try to buy some blood, and the guy — who, by the way, had goats running all around his house — said, "No. You [clap] are [clap] a [clap] witch." Theodor turns, mandoline in hand. "I hope you said, 'It [clap] is [clap] none [clap] of [clap] your [clap] business [clap] if [clap] I [clap] am [clap] a [clap] witch.' " Noticing I'm standing a bit awkwardly in the corner, Menuez asks if I'd like to help peel some husk cherries.
Menuez bought a trimmer and shaved their long, oft-described-as-Botticelli-esque red hair. They wrote a long email to their team, explaining that they had some big questions surrounding their gender and that they'd need some time off, some privacy. "I feel like I'd been sprinkling clues about my gender into public spaces for years," they say. "But for a long time, I wasn't ready to change my presentation publicly or change my name or be adamant about my pronouns."
A friend helped Menuez get a gig ­substitute-teaching kindergarten classes at a prestigious Brooklyn alternative private school, and Menuez also began working as a barista at their friend Sandeep Salter's Brooklyn Heights coffee shop–design store, Salter House. (Menuez sells their etchings next door at Salter's gallery, Picture Room.) "I'd shaved my head and changed my name and hadn't posted images of myself yet anywhere. But I remember once, I was making coffee for someone, and they said, 'You know, you look so much like this person I follow on Instagram.' I didn't quite know what to say. So I just nodded and smiled." Menuez began meditating for two hours daily and going on ten-day retreats. They cooked, too. At midsummer, the artist Fannie Sosa called Okoyomon and asked if the friends would cook for the closing of Sosa's exhibition "Black Power Naps." Within a few months, Spiral Theory Test Kitchen had developed a mission statement and had cooked several dinners, some for charity, some for friends: flowers filled with goat cheese and ghost-pepper honey ants to raise money for the Parole Preparation Project; a layer cake with green slime for the chef Angela Dimayuga's birthday party.
Over the past couple of years, a crop of similar collectives has emerged: JaynesBeard, an invite-only supper club for lesbian and queer women; BLK Palate, a group that cooks dinners to honor the black queer community; and, upstate, the queer-community-focused restaurant Lil' Deb's Oasis, which serves tropical comfort food in a space so glittery it's often described as an art installation. Its wine menus are written by the staff in verse — one Austrian red is described as "Rollerblades, new money, I-69, Burt Reynolds, full bush."
Menuez isn't a chef ("The idea of it makes me laugh," they say), but this is where they've landed: the next-next Chloë Sevigny as genderqueer-intellectual-cook-poet-activist. When it's time for the fifth course, Menuez brings the pigeon to the table; there's one bird for every two people. "You're meant to share," Menuez serenely whispers. The idea is to break down the barrier between near strangers. I share my bondage-­wrapped pigeon with a woman who enthusiastically rips off its glossy head with her fist. "It takes you to the edge of your comfort around sharing and hygiene and what is appealing and what is appetizing," Menuez says.
In January, Menuez got a call from their agent: Adam would be premiering at Sundance, and she wondered if they wanted to go. "It was the first film where I'd be credited with my new name," Menuez says, "and I thought, I'm just going to go back out there and see how it feels." They came out officially on Instagram the day before the premiere. Afterward, they agreed to start going back out for jobs again, and within months, Menuez had booked a role on Euphoria. Next came an independent film directed by Margarita Jimeno called Grind Reset Shine. They also performed in Hayden Dunham's show at PS1 and posed in W magazine in a suit and short blue hair. They kept cooking dinners.
"I was so obsessed with something that happened recently," they tell me after dinner winds down. "We did this installation for H&M; we filled this West Village townhouse with desserts, and the guests were meant to eat them without plates, to just stick their fork in the cake and have a bite. And the actor Indya Moore came, and without us explaining anything about us or our project or who we are, they started stream-of-consciousness yelling at this cis white guy eating our cakes, saying, 'This is the queerest, trans-est, gayest food I've ever had. Eating this makes you more trans.' Going the fuck off. Saying, 'This is going to obliterate the toxic masculinity inside of you.' I was like, Oh my God. It's working. The transmission is being received."
*A version of this article appears in the December 23, 2019, issue of New York Magazine. Subscribe Now!