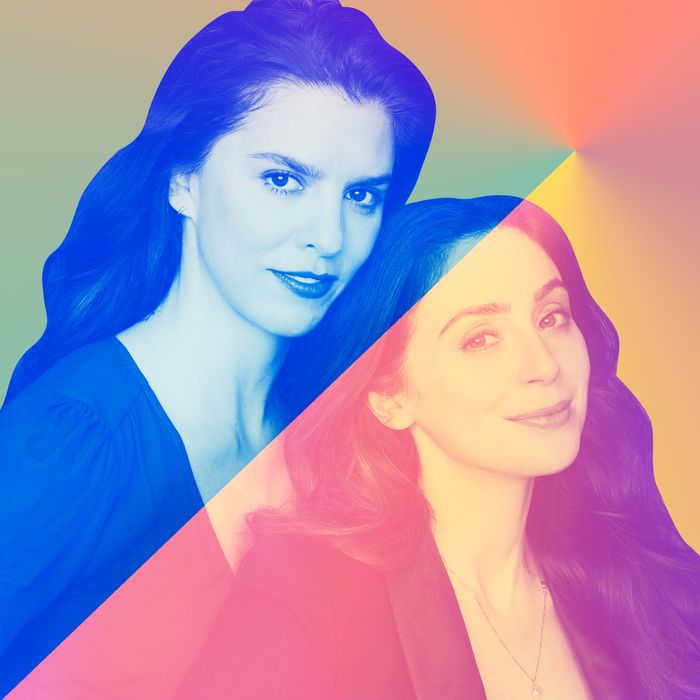 Spending an hour with beauty directors Jennifer Goldstein and Jessica Matlin (of Marie Claire and Harper's Bazaar, respectively) is almost like being on their podcast, Fat Mascara. Their banter is quick-witted, full of debate, candor, and introspection — both with each other and their guests — and iHeartRadio concurred, nominating the show in the Fashion and Beauty category for its 2020 Podcast Awards.
We have Matlin's boyfriend (now husband and expectant father) to thank for this. When she and chemist Geoffrey Genesky (who works in product development in skin care) began dating in 2013, his avid interest in podcasts sparked her own. She listened to Marc Maron's WTF and Bret Easton Ellis's on Podcast One on a regular basis, when a light bulb went off.
"I thought, Marc's talking to comedians and actors; Bret's talking to musicians and filmmakers. Who's talking to people in beauty?"
After some digging, she found one beauty podcast, and it was bridal focused. She pitched her idea to a producer friend who liked it, but told her podcasts generally did better with two people. Enter Jenn Goldstein. The two had become good friends through the beauty-editor world. In the studio, Matlin and Goldstein's on-air chemistry tested off the charts, and the first official Fat Mascara episode aired February 2016, with Rose-Marie Swift as its first guest.
"We wanted a show name that hinted at the over-the-top, superlative nature of beauty-marketing language," says Goldstein. "And the words Fat Mascara just made us smile." Bold-faced beauty names like Mario Dedivanovic, Charlotte Tilbury, and Olivia Wilde have been guests, but insider experts like cosmetic chemists and perfumers are also regulars.
Goldstein and Matlin spoke with the Cut about butt-acne cures, the still-murky definition of clean beauty, and why wearing sunscreen is not up for debate.
What's your definition of beauty?
Jenn Goldstein: The confidence to accentuate one's individuality.
Jessica Matlin: The word beauty has always been linked to aspiration for me. The right lipstick can make you feel more confident; a great spa treatment can make you feel cared for. As I've gotten older, however, I see beauty more as something that exists in the natural world.
What do you think when you hear the term clean beauty?
JG: It's great that retailers and brands are trying to make their products safer for people and the environment, because the U.S. government hasn't been able to get its act together to update cosmetics regulations. But I don't agree with the way some brands and retailers define the term clean; removing ingredients that are safe simply because they have negative consumer perceptions is how misinformation spreads.
JM: While I'm all in favor of products that utilize the best in nature, I'm sometimes uncomfortable when the "clean" conversation moves into fearmongering.
Where, if anywhere, in your beauty routine (or life) are you not quite that "clean," "green," or "sustainable"?
JG: I am a guilty user of flushable wipes. I know they contribute to microplastic pollution, but I'll be using them until Japanese smart toilets become the norm.
JM: Every day, I probably receive at least a dozen packages (via mail and messenger). I understand why brands send these mailings, but as an industry, we have to find a less wasteful way to work. When I see the pile of garbage left behind each day, my heart sinks.
Please fill in the blank as it pertains to something connected to your beauty, self, routine, product, or other: I think about _______ a lot.
JG: The amount of trash I make.
JM: If I'm doing enough.
What is your morning skin-care routine?
JG: I splash my face with water, apply serum, moisturizer, and sunscreen. I use SkinMedica TNS Serum and Vintner's Daughter regularly, and Augustinus Bader the Cream from time to time. My straight-up moisturizer is Weleda Skin Food. My sunscreen is Elta MD UV Clear, or lately, Josh Rosebrook Nutrient Day SPF 30.
JM: I usually just splash my face with water, then Aerin Beauty Rose Water Refreshing and Setting Mist. The serum I use depends on what my skin needs. If it feels sensitive, Kiehl's Hydro-Plumping Retexturizing Serum — it's so great for dry complexions. If I can take something stronger, Kiehl's Powerful-Strength Line Reducing Concentrate, which has vitamin C and hyaluronic acid, followed by Tatcha the Silk Peony Melting Eye Cream. Moisturizer is usually Kiehl's Super Multi Corrective SPF 30, but I also try new ones, and currently, it's Chanel Sublimage La Creme and Tracie Martyn Face Resculpting Cream. Neither has SPF, so I'll top them with Giorgio Armani Maestro UV Primer SPF 50.
What's the last beauty product you use every night?
JG: Usually a face oil, like Vintner's Daughter.
JM: Noodle & Boo Room Spray. I've loved this brand since 2005 — it's a line for babies. All of the products have this delicious scent of warm milk and vanilla that I find so comforting and a sign that the day is over!
What aspect of your beauty routine tends to be neglected?
JG: "The routine" is my job, so none of it! That said, I hate getting a "blowout," and I will never make a habit of using an anti-aging or cleansing gadget.
JM: I have to remember to put body lotion on. I shower late at night, so after I get out, I'm usually too tired and wilted to apply body product.
What, if anything, is usually on your lips?
JG: Chanel Rouge Allure Ink in Experimenté.
JM: Charlotte Tilbury Lipstick in Penelope Pink or Tom Ford Lipstick in Spanish Pink.
What makeup item would you never skip?
JG: I would have said mascara, but I recently started getting a lash lift and tint, and when it's freshly done I don't need a lash curler or mascara.
JM: Mascara. My eyelashes are becoming more translucent with age.
Facial cleanser of choice?
JG: Senka Perfect Whip.
JM: Naturopathica Oat Cleansing Facial Polish.
Fragrance of choice?
JG: How could anyone choose just one? If I can name a few: DSH Special Formula X-treme, Lisa Hoffman Japanese Agarwood, DS & Durga El Cosmico, Vilhelm Parfumerie Dear Polly.
JM: I have a vast collection, but the few I reach for the most are Jo Malone Red Roses, Jo Malone Wood Sage and Sea Salt, YSL Black Opium, Aerin Lilac Path, Elisire Eau Papaguéna, and the original Burberry Brit Rhythm (when it had lavender in it).
What discontinued product do you mourn?
JG: Sally Hershberger Glam Waves Style Shaper. I think it retailed for $7.99, but last year I paid $26 for a bottle from a shady Amazon reseller. Earlier this year, Sally was a guest on Fat Mascara, and she sent me two bottles that I've been rationing.
JM: Revlon Outrageous Shampoo. It's currently on eBay for $72. (That scent!) Close tie: The original Kate Spade fragrance from 2003. It was my gateway white floral.
 What beauty product still needs to be invented?
JG: Sunscreen pill!
JM: Something that actually gets rid of stretch marks.
What was your first beauty-product obsession? 
JG: I don't know which came first: Lip Smackers, St. Ives Apricot Scrub, Freeman face masks, Dippity Do gel, Caboodles, Shine Free makeup, Covergirl Lipslicks, or Salon Selectives shampoo.
JM: When I was 6 years old, I had carte blanche to rummage through my mother's gift-with-purchase samples. A favorite was this big palette from Charles of the Ritz. It had four lipsticks and four matching cheek colors. Through that palette — and all of her luxury cosmetics — I felt as if I was given access to a more exciting, glamorous world.
What do you splurge on?
JG: Wine.
JM: Bath Sheets.
What do you scrimp on?
JG: Transportation. It pains me to call an Uber or hail a taxi.
JM: I like a cheap and cheerful breakfast.
What is your classic uniform?
JG: Frame black jeans, Marc Jacobs leather jacket, and shoes are either Acne or Doc Martens.
JM: Long, floaty dress (usually L.K. Bennett or Boden, but lately Hatch because I'm pregnant). Shoes are black J. Crew flats, black Tamara Mellon boots, or gold-studded Isa Tapia sandals.
Any hidden or secret talent or skill you possess?
JG: I am freakishly strong for my size.
JM: I have a near-encyclopedic knowledge of 1980s toys for girls.
What skill or talent you wish you had?
Both: The ability to sing.
And what would you sing?
JG: The diva's aria from The Fifth Element.
JM: Wrecking Ball.
What was the most recent interesting conversation you had? 
JM: We recently had Guido Palau on Fat Mascara, and I was so interested to hear him talk about his insecurities as a teen and how that ultimately — in my view — led him to become one of the most inspired hairstylists in fashion. I'm always intrigued when people at the top of their game show some vulnerability — especially in fashion.
What would the name of your autobiography be?
JG: Tampons & Crampons: A Beauty Editor in the Wild
JM: I don't think I could ever top Richard Simmons's Still Hungry After All These Years: My Story.
Favorite smell?
JG: Herbs like wild sage, basil, mint, and rosemary. But eucalyptus is a close second.
JM: Cold air, lots of trees, and a burning fireplace. I also live for a big, unapologetic chypre fragrance — it reminds me of the women in my family in the 1980s.
Least favorite smell?
JG: Certain scents give me a tactile response. When I smell stargazer lilies, it feels like tiny pinpricks all over.
JM: New York subway platforms.
What do you think Pantone's color of 2020 should have been, and why?
JG: 421C, a soft gray. Things are never black and white, despite what today's political atmosphere would have you believe. I think a nice, soothing gray area could help us all right now.
JM: A lush evergreen. Like so many, I'm thinking more and more about the environment.
 
What do you most often disagree with others about?
JG: Astrology. It's a belief, not a science.
JM: Animal-welfare issues.
What can't you leave alone? 
JG: I can't go to sleep with the closet door open.
JM: A sticky computer keyboard.
What do you foresee as the top beauty trends for 2020? 
JG: The '70s color palette is still big in fashion, so I'm expecting quirky nail-polish shades like mustardy yellows, terra-cotta oranges, and weird lavenders to be popular. And more hybrid skin-care-makeup products, like serums that make you look like you're wearing highlighter or tinted eye creams that act like concealer. And the personalization thing may finally take off with bespoke skin-care brands and custom hair products.
JM: More definitive, less confusing positions on what "clean" and "natural" beauty really mean. I also think beauty's obsession with millennials is going to taper off a little bit, as brands will start paying attention to the 40-plus consumer. Lastly, I think we're going to see more in-office face and body treatments. I'm constantly surprised by how many young people are asking me about Fraxel, and Clear and Brilliant, and treatments like Emsculpt are changing the way people think about their bodies in the same way that Botox changed the way we look at facial aging.
What product do you think is misunderstood and should be a best seller? 
JG: Sunscreen. I don't understand why people will pay $200 for a fancy face oil or anti-ager and then complain that sunscreen costs too much, when a $20 bottle can actually reverse signs of photoaging.
JM: Sunscreen. People think they only need it in the height of summer, or that the sun protection in their makeup is enough. It's not.
What beauty product is currently your absolute favorite? 
JG: I had red bumps on my butt forever and tried everything to get rid of them. What finally worked is Hibiclens antiseptic foam wash. I would never use it anywhere else on my body, but it's amazing for butt-ne.
JM: Too Faced Peach Mist Mattifying Setting Spray. I always find my makeup has disappeared after noon, and this spray gives it more life.
If you won the Powerball tomorrow, what are the first five things you would do (after, of course, donating the majority of it to your top charities)?
JG: Buy land in the Catskills and build a sick tree-house-like indoor-outdoor home; take my family and friends on a safari in the Maasai Mara; and then start investing so I have more money to give to Planned Parenthood, the NRDC, DKMS, Immigrant Families Together, and Leader Dogs for the Blind.
JM: Set my family up in comfort and style, buy an apartment in the Dakota and a house on Hampstead Heath in London. I'd buy some property in New Jersey, and start a ranch for abandoned and injured animals. I'd also love to open an ice-cream shop — I have fond memories of working at Friendly's as a teen. I loved making sundaes for people.
Not to get too philosophical, but … what do you want?
JG: For everybody to chill out.
JM: To feel comfortable in my skin, connect with others, be the best mom I can be, and find joy in every day.
If you buy something through our links, New York may earn an affiliate commission.