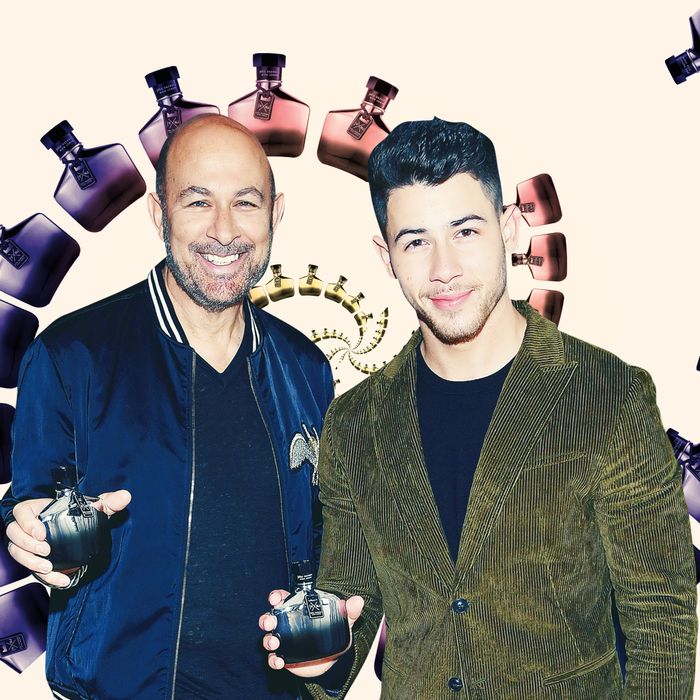 Photo: Courtesy of John Varvatos
Scientific studies confirm that, of all the senses, smell offers the best recall. In Scent Memories, the Cut asks people about the scents they associate with different times in their lives.
Next up is Nick Jonas, musician and actor, along with designer John Varvatos. The two have collaborated on three perfumes, including their newest, JV x NJ Silver Edition. The Cut caught up with them both to talk about the smell of coffee, dogs, and why regret doesn't smell like tequila.
My first scent memory is: 
Nick Jonas: There's a ski mountain in New Jersey. Well, it's hardly a mountain, it's more like a hill with a ski lift. But I would go there with my family, and we would go down a bunch of runs and then go to the cabin. The smell of burning firewood was imported to my brain early on. It's that early childhood memory of going back to the lodge and being warm again.
John Varvatos: My grandfather's room. He didn't smoke, but there was some kind of leathery, exotic smell that I noticed every time I walked into his home. When I started to create my first fragrance and was thinking back, that was the one scent I remembered from a very young age.
Love smells like:
NJ: Spring as a whole and the smell of flowers blossoming. It puts me in a place of peace, which is what I think love should do. I wish I knew the names of flowers, but I'm not the kind of person who knows anything about flowers. But I like them.
JV: As a young lad, the first time you were really next to or close enough to a girl to know what she smelled like. At the time, it was more of a flowery, soft aroma.
A pleasant surprise smells like:
NJ: Any time I see a dog. Specifically, the smell of a dog. I'm a golden retriever fan. They don't necessarily smell wet. They smell pleasant to me.
JV: I went to the gym earlier and took the dogs for a quick walk, and stopped for a cappuccino. When I walked into the little coffee bar, that scent was a nice surprise. I don't drink five cups of coffee a day, but when I'm in the right place with great coffee, it sucks me right in.
Success smells like:
NJ: Leather, and some of those scents which are more refined. Maybe the kind of materials used to make something great. I have a real respect for someone who has mastered a craft, and knows that the materials that go into something have to be of the highest quality.
JV: Sweat can smell like it. It means you accomplished something. Let's say you won the World Series. That moment, that was floating in the air, could be the best scent.
Regret smells like:
NJ: I don't know if I have a scent memory for that, which I am so grateful for. There isn't one scent I can attach to that feeling. It's definitely not tequila — that's definitely not my experience. Maybe jaeger.
If I could have one smell on my hands forever:
NJ: Our JV x NJ Blue cologne. I'm serious. It's my favorite one I've ever done. I wear it every day. It goes to our initial intention of creating something that makes you feel comfortable and confident.
JV: For me, it's leather. It's such a part of my life and my brand. I'm around it every day, with apparel and shoes. It brings back memories of the first music show I ever went to ever. I remember being at CBGB for the first time, with all the people waiting to get in. When I got inside, they were all wearing leather. It was exciting to be around all those people who had the same dream of seeing the band.
If you buy something through our links, New York may earn an affiliate commission.