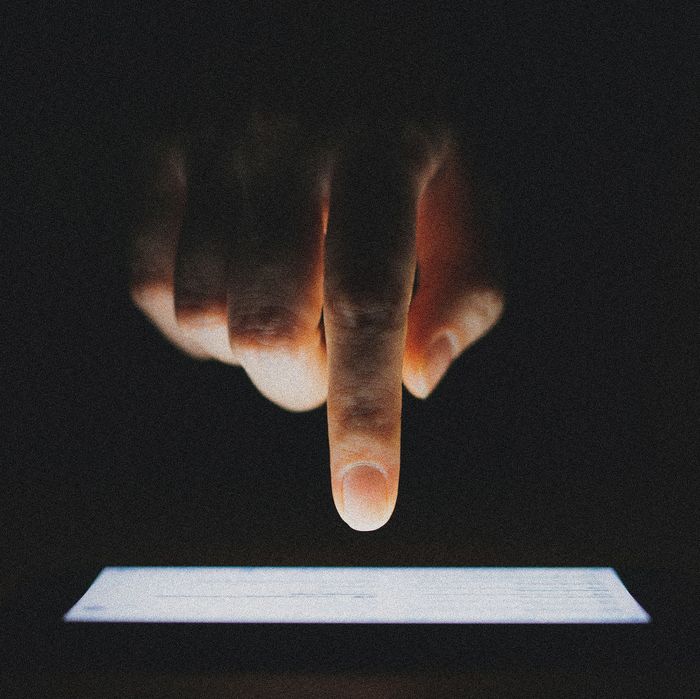 Photo: d3sign/Getty Images
Imagine the horrifying shock of seeing a man who has raped you appear in your feed of potential matches while you swipe through a dating app — the same one through which you initially met your rapist, and to which you have reported him for criminal behavior.
That's what multiple women say they've experienced using apps owned and operated by online dating behemoth Match Group, which includes Tinder, Match, PlentyofFish, OkCupid, and 41 more services. According to a new report by ProPublica and Columbia Journalism Investigations, Match Group screens for sexual predators on its paid app Match, but not on its free services, allowing sexual predators to create new profiles on these same sites again and again. The lack of structured, mandated background checking oversight across apps has left users vulnerable to offenders even after they've been added to state sex registries.
In 2011, Match user Carole Markin sued the company after the site connected her to a man who'd been convicted of rape six times; on their second date, she told police, he raped her. After Match settled with Markin, they announced that they would be checking subscribers against state and national sex offender registries. But it hasn't extended that diligence to its free apps. In 2016, according to CJI, a woman named Susan Deveau reported that she was raped on their third date by a man, Mark Papamechail, who she met on Match Group site PlentyofFish. Papamechail was a three-time convicted rapist, and on the state of Massachusetts registry; the Plenty of Fish service agreement says that it does not conduct background checks on its users. It merely requires that, by signing its terms of service, users promise they haven't committed "a felony or indictable offense (or crime of similar severity), a sex crime, or any crime involving violence."
Papamechail was not just a convicted sex offender: Some of those past convictions included a rape reported by another woman he met on PlentyofFish. In March 2014, Janine Dunphy alleged that Papamechail also raped her at his home. (At the time, PlentyofFish was an independent company, but was bought by Match Group later that year.) Dunphy also didn't know Papamechail was a convicted sex offender when she matched with him. After the criminal trial, which resulted in a lifetime restraining order against Papamechail, Dunphy was convinced she would see him again on Match Group dating sites. She was right: In the winter of 2016, she says she saw him back on PlentyofFish.
CJI found that the rapid abuse reporting systems touted by Match Group as crucial for protecting users from criminal behavior are far from perfect. One user said she informed Tinder that she had been raped on a first date by a man she met through the app, but that he had "unmatched" her and she couldn't provide records of their correspondence to the police. Authorities declined to press charges, and Tinder never responded to her requests to retrieve the material. Another woman reported that she was raped by a man she met on OkCupid in 2014, after which he got ten years probation that prohibited him from using dating apps; he also appeared on the state's public sex offender registry. She claims she frequently saw her rapist back on OkCupid after the sentencing, even after she reported his profile. A Match Group spokesperson confirmed that they never checked the registry for the man's status when he created a new profile.
A spokesperson for Match Group, which is expected to make $800 million in profits this year, told CJI that "the company cannot implement a uniform screening protocol because it doesn't collect enough information from its free users." But another statement from the same representative implies a terrifying state of affairs for users of its services: "There are definitely registered sex offenders on our free products," the person said. CJI reports that just five states have regulations aimed at improving online dating customer safety, and that the problem of sexual abuse on dating apps is becoming a larger problem as the number of users increases. In a survey of 1,200 women undertaken by reporters, one third said they were sexually assaulted by someone they men on a dating app.
In early 2018, Janine Dunphy was informed that Deveau, the woman who also reported that Mark Papamechail raped her, had died of kidney failure. With Deveau no longer alive, the rape charges against Papamechail were dropped. Dunphy found Papamechail back on PlentyofFish within a month, and reported his profile to the company but never heard back. Match Group would not confirm or deny that they received a complaint.