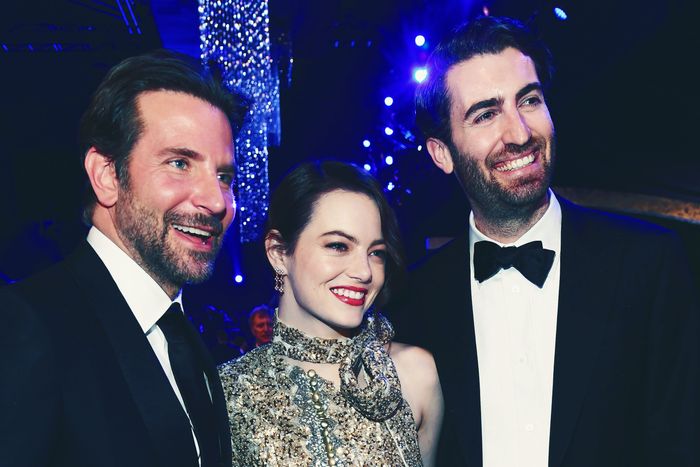 Bradley Cooper, Emma Stone, and Dave McCary
Photo: Kevin Mazur/Getty Images for Turner
Last week we got word that Emma Stone's skin was flawless, her hair was perfectly mussed, her teeth were brilliantly white, and her ring finger was ringed. Oh, to be Emma Stone, or at least have her complexion!
If you missed the news, Saturday Night Live writer and segment director Dave McCary announced on Instagram last week that he'd proposed to his girlfriend of two years, Emma Stone, and that she accepted. The pair met when Stone hosted Saturday Night Live in 2017. At the time of the engagement announcement, we agreed that Dave McCary seemed nice, and that we were happy for Emma Stone in general.
Today, new reports from so-called industry sources at People have surfaced about McCary's inner workings. Very interesting. What could be behind that normal face? What could be lurking beneath that seemingly nice-enough exterior?
According to People's source, Emma Stone is professional, talented, and focused on her work. And how does her fiancé feel about it? "Dave respects that," they said. Oh my!
The source continued, "He totally supports her, and is unselfish in his desire for her success. Those are great qualities in a man for someone like Emma. She is impressed by his talent and respects him immensely."
Well, well, well. It seems, if this source is to be believed, we were pretty much correct in our assessment that Emma Stone's new fiancé seems nice, and that Emma Stone herself has a good career, and that her life is pretty good. It seems we were correct, too, in being pretty much happy for her in general. I consider that a win for us, and — I think you'd agree — we have to take our wins where we can find them.