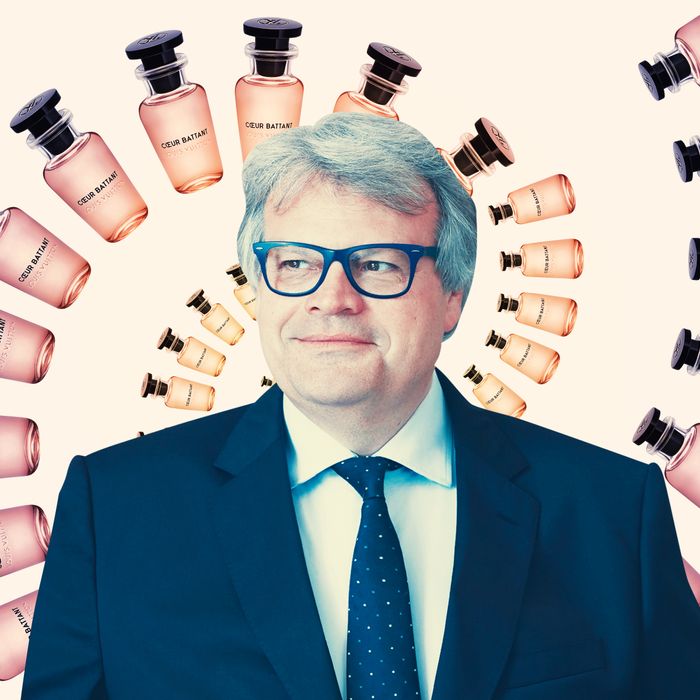 Photo: Courtesy of Louis Vuitton
Scientific studies confirm that, of all the senses, smell offers the best recall. In Scent Memories, the Cut asks people about the scents they associate with different times in their lives.
Next up is Louis Vuitton master perfumer Jacques Cavallier-Belletrud. A native of Grasse, France, the world's fragrance capital, Cavallier-Belletrud has created famous fragrances like Givenchy Hot Couture, Giorgio Armani Acqua di Gio, and Issey Miyake L'Eau d'Issey. Cavallier-Belletrud recently created Cœur Battant, Louis Vuitton's twentieth fragrance and tenth feminine one. Named after a beating heart, it features notes of crisp pear, Egyptian jasmine, narcissus, patchouli, and moss. The Cut caught up with the master perfumer to talk croissants, lavender, and the accord that smells most like a baby's head.
My first scent memory is: The smell of roses because my mother was applying rosewater on my face every morning since I was born. It's very good for the skin and the eyes and I can remember the smell of roses; it was very delicate, of course. Because of that memory, I use rose in all my perfumes.
Happiness smells like: A floral bouquet, a mix of jasmine, rose, honeysuckle. A lot of spring and summer flowers.
Love smells like: Ah, love has many, many, many scents. For me it's more amber, grey amber or ambergris, which is not only slightly animalic, but a very deep, massive floral. There's no sex to it, we don't know if it's masculine or feminine. It's kind of an eternal smell, something that you knew before, from the day you first smelled it and it reveals itself to you, you know? Exactly like love.
Friendship smells like: More joyful, like bergamot. Sparkling, you know? Or mandarin. They are both citruses, but bergamot is a very sparkling, dynamic citrus whereas mandarin is a more floral, fruity, and aromatic citrus, which is like something that you'd like to share, just like friendship.
Heartbreak or loss smells like: Patchouli, because it has many facets. It's kind of an olfactive tiger; something that you cannot totally dominate. You don't know if it's dominating you, or if you're dominating it.
Success smells like: Louis Vuitton perfumes of course [laughs]. But I'd say vanilla because success is very positive. It's something that everyone likes and everyone can share, just like vanilla. Vanilla has tenderness and softness, but there is also a very sensual aspect to it. Similarly, success is something that is very appealing.
The worst smell is: The smell of shit on your shoes. Especially in France because dogs are always doing that kind of thing in the street. The smell for me is horrible. Especially when you come home with it.
Vacation smells like: California, the sand, and breathing in the ocean. Very marine and salty.
Sunday morning smells like: A vitamin C shot and orange, because you need to recover from Saturday night.
Monday morning smells like: Croissants or pain au chocolat, because it's the beginning of something new.
My home smells like: Lavender. I love lavender and I love to find scents inside of my home that you usually only find outside. I love the smell of nature, fields, for example, the smell of lavender with rosemary in Provence. So I spray lavender in my home.
If I could have one smell on my hands forever, it would it be: The smell of my wife. The only smell I adore after my wife is rose.
I smell like: A baby. I smell of orange flower. Babies smell so sweet and so soft and so clean, it's reminiscent of orange flower, which is why I wear an orange-flower accord. It smells like peace and love.
If you buy something through our links, New York may earn an affiliate commission.