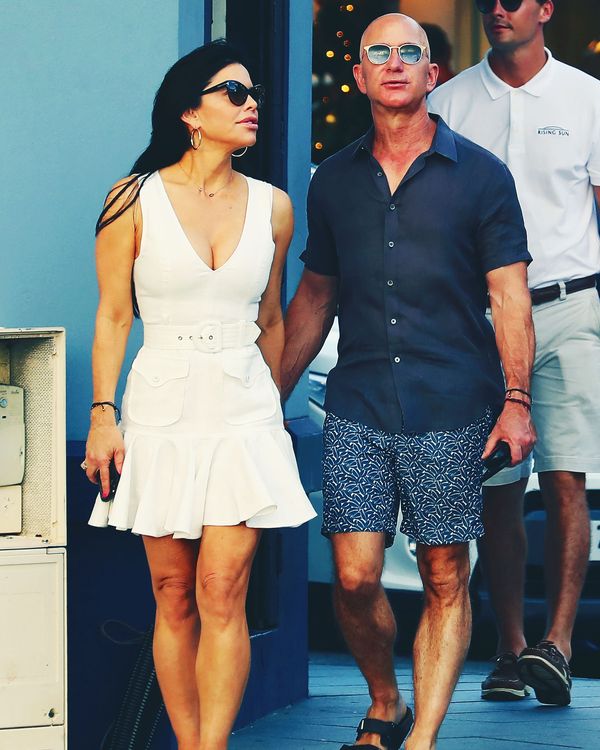 Photo: AbacaPress/SplashNews.com
While most of us are traveling back home to be with our families for the holidays, Amazon founder and CEO Jeff Bezos brought his loved ones to St. Barts this week. He and his girlfriend, "alive girl" Lauren Sanchez, were photographed walking around the French Caribbean island with Sanchez's son, Nikko Gonzalez. It was also reported that they hopped aboard fellow billionaire David Geffen's yacht, where model Karlie Kloss and her husband, Josh Kushner, were also spotted.
The last time Bezos took a beach vacation with Sanchez, it caused quite a stir — but not for reasons you might think. When he wore a pair of $260 octopus-print Vilebrequin swimming trunks in Saint-Tropez this past summer, the brand reportedly saw a 105 percent rise in page views over the span of three months. According to the fashion search engine Lyst, there were over 4,000 searches for that item in particular.
Like his founder peers, especially Twitter's Jack Dorsey, Bezos clearly cares about how he looks. He's gotten in better shape and is investing in more high-fashion brands — ones you might not necessarily find on Amazon. Those sandals are Prada! And that linen shirt also looks very expensive. His swim trunks, meanwhile, have a similar vibe to his last ones, although I actually like these better.
Has Jeff Bezos truly become a fashion influencer? Hmm … I'm not so sure. He seems busy. But maybe that's his New Year's resolution.