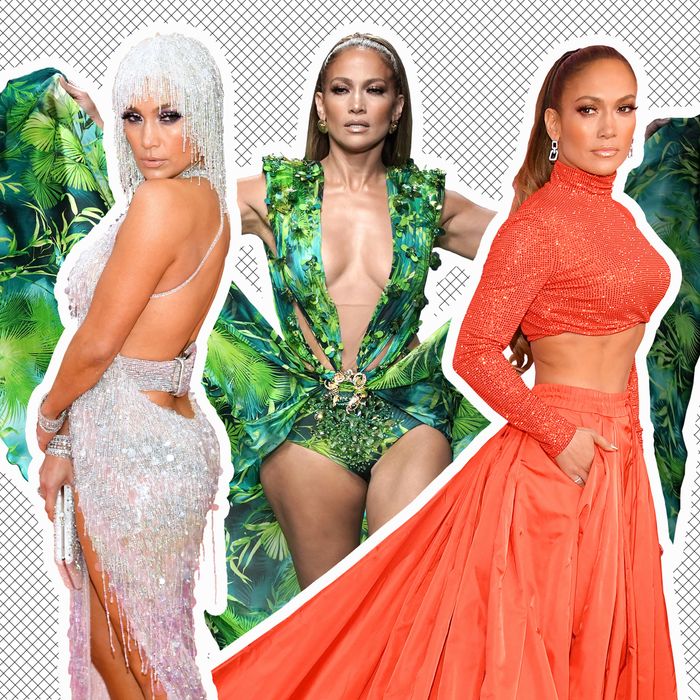 The day after Thanksgiving, I found myself slumped on a couch watching a 13-minute YouTube video of Jennifer Lopez doing incredible physical stunts on a stripper pole. In order to play the character of Ramona in the movie Hustlers, Lopez had to learn how to look natural while hanging upside-down on a metal rod using basically only her kegel muscles.
Watching this video, titled "How I mastered the Pole Dance: Hustlers BTS Part 1," (I suggest you also watch Part 2), it became clear to me that no one had a better year than Jennifer Lopez. Not only did she learn to pole dance and then do the damn thing on camera, she also got engaged, threw herself a blowout 50th birthday party (yes, she's 50), was honored at the CFDA awards, and went viral during Fashion Week. All while doing what Ramona does best, which is getting money.
Below, a roundup of the most awe-inspiring J.Lo moments of 2019.
She Opened the Grammys With Some Friends
Host Alicia Keys brought down the house when she brought on J.Lo — along with Lady Gaga, Jada Pinkett Smith, Michelle Obama — to kick off the Grammy Awards with a message about diversity.
She Got Engaged to Alex Rodriguez
A merging of two beautiful people with abbreviated names. J.Lo and A.Rod have been dating since 2017, but they actually met years ago, at a baseball game in 2005. He's always been a great Instagram husband, but in March he made it official. Here's how the proposal went down, in case you're wondering.
She Attended the Met Gala With a Plus One
It's hard enough to get an invite, let alone a plus one! The theme this year was "camp," so J.Lo finally had an occasion to dress-up as the human version of her bedazzled Starbucks cup. A.Rod looked nice too.
She Didn't Let a Blackout Stop Her
In honor of her 50th year on Earth, Lopez went on a concert tour called "It's My Party," also releasing a new single. One show happened to take place during the New York City blackout in July, and Lopez was forced to stop performing midway. She immediately rescheduled, though. No one turns the lights out on J.Lo.
She Won a CFDA Award
Lopez joined the ranks of Rihanna, Beyoncé, and Naomi Campbell as an official CFDA "Fashion Icon." She wore a Ralph Lauren crop top to the ceremony, letting everyone know that her abs also deserve an award.
She Threw Herself a Birthday Banger
It involved a nine-tier cake, an indoor swing, fireworks, and a performance from the birthday girl herself. Everyone from the block was there, including Fat Joe. A.Rod even surprised her with a red Porsche as a gift; meanwhile, all he got for his own birthday was a humble cake.
She Went Viral During Fashion Week
This year marked the 20th anniversary of J.Lo wearing a deep V-neck Versace dress to the 2000 Grammy Awards — a look so smokin' hot, it lead to the invention of Google images. At Versace's spring 2020 fashion show in Milan, she surprised the crowd by storming the runway in a revamped version of the now-iconic look. That moment alone garnered $9.4 million worth of media mentions and online engagement. Love may not cost a thing, but influence does.
She Did That on a Pole
I could watch this video 1,000,000 more times. What's even more impressive than J.Lo's physical strength in the video is her seriousness about the whole thing. It's like she's training for the Pole Dance Olympics, not a Hollywood movie. But that's the J.Lo way. If I could commit to anything as hard as J.Lo committed to that stripper pole … yeah, no, that's impossible.
And Her Glitter Cup Was With Her Every Step of the Way
The cup, which is bedazzled with Swarovski crystals, is quite possibly her secret weapon, her Excalibur. As evidenced in these Hustlers behind-the-scenes videos, it never leaves her side. Maybe if we get one, we can become J.Lo in 2020. (Ha!)