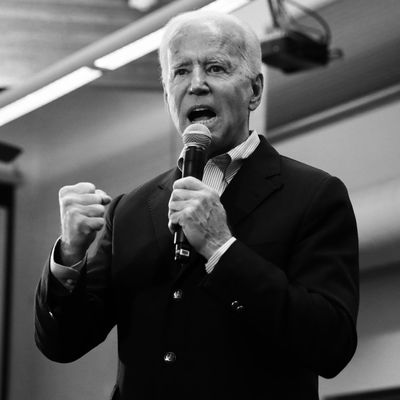 Photo: Scott Olson/Getty Images
Joe Biden got into an extremely tense, aggressive confrontation with a potential voter in Iowa on Thursday, lashing out about the man's intelligence, calling him a liar and — in what's becoming a signature Biden move — challenging him to a push-up contest.
Video from the unfortunate campaign stop shows Biden responding heatedly after the man, who described himself as an "old, Iowa retired farmer," stood up to ask why Biden had "sent" his son Hunter to Ukraine to "sell access to the president." (There is, in fact, no evidence yet that the Bidens engaged in wrongdoing when Hunter Biden took a position on the board of a Ukrainian energy company, as Donald Trump has implied.) Biden angrily retorted, "You're a damn liar, man," before getting into a tense back-and-forth. When the man said he had heard claims about Biden selling access via his son on MSNBC, Biden snapped, "You don't hear that on MSNBC — you do not hear that at all."
"I'm not sedentary," Biden continued, seemingly referring to an earlier comment from the same voter that Biden is "too old for the job." He then referred to the man's intelligence and physical health: "You want to check my shape on, let's do push ups together, let's run, let's do whatever you want to do, let's take an IQ test," Biden said.
Then came the weirdest moment of the exchange: "Look, okay, I'm not going to get into an argument with you, man," Biden said. Shortly after he started again, saying what sounded like "Look, fat," into the microphone before cutting himself offer. Biden spokeswoman Symone Sanders has insisted that Biden said "Look, facts."
When the man finally said he wouldn't be voting for him, Biden still couldn't help himself. "You think I thought you'd stand up and vote for me?" Biden said. "You're too old to vote for me."