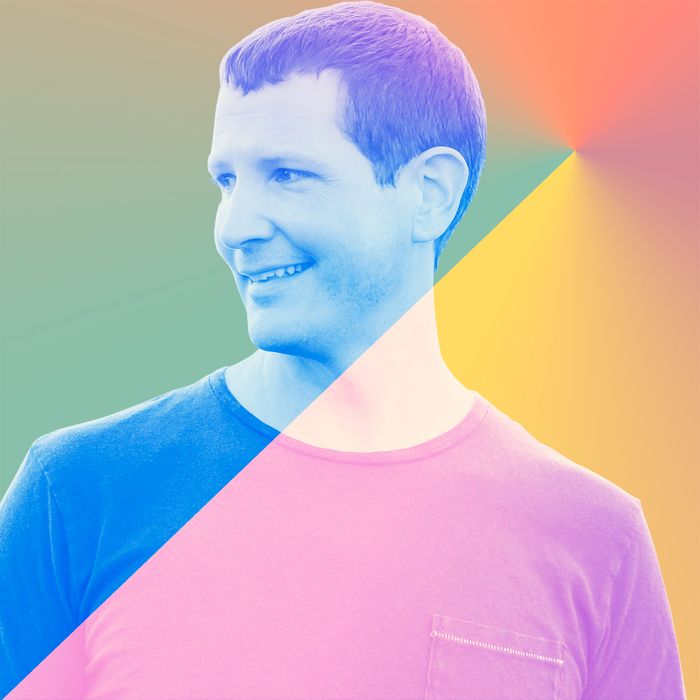 Photo: Courtesy of Josh Rosebrook
Back in the mid-'90s, Josh Rosebrook was 18 years old, working as a waiter in his hometown of Portland, Oregon, and contemplating his next move.
"Portland in the '90s was really fun and exciting. We were all questioning authority, we were all vegetarian, we'd meditate, go to drum circles," recalls the founder of the eponymous skin-care and hair-care line, which has fans ranging from Alanis Morissette to Sofia Coppola. "But I was getting tired of waiting tables."
Friends of his were hairdressers, and their contentment with their jobs did not go unnoticed.
"They set their own schedules, they worked with clients they knew and liked and made feel better, and they made a lot of money," he says.
He got his cosmetology degree and hightailed it to L.A., where he became a production assistant until he got licensed in the state. He honed his skills at the Alfred Nicoli salon, then rented a chair at Shampoo salon, where he began accumulating clients in a rather unorthodox way.
"I DM'ed people on MySpace," he explains. "No one was doing that yet, so I think people were just excited to get a message from someone they didn't know. It was such a different era."
While cutting clients' hair, he'd also share the mask and exfoliator he was tinkering with. Rave reviews encouraged him that he might be on to something. After five years of tweaking and saving, he launched Josh Rosebrook Cacao Antioxidant Mask and Active Enzyme Exfoliator in 2009. His Herbal Infusion Oil came a year later.
"Everyone said facial oils were bad for skin, so I had to trick people and tell them it was a serum."
He tapped his contacts from his PA days and got his goods in the hands of celebrities, including Alicia Silverstone, who gave the oil a shout-out. A year or two later, a client who worked at the the Oprah Winfrey Network invited him to talk to the staff about natural skin care.
"I just kind of started saying 'Invited by Oprah' after that, which kind of spun into 'Oprah likes his products!' I just didn't correct people when they wrote that," he says with a laugh.
The cult following grew, as did the line, which included hair products, of course. "My brand was created not by a get-rich-quick mind-set," says Rosebrook. "It was by selling to people who loved it. My clients grew this line."
Rosebrook spoke with the Cut about his dream farm, his visceral feelings about clutter, and his morning routine.
What do you think of when you hear the term "clean beauty"? I feel fairly neutral to the term, but I don't use it in my marketing. The term has no real, finite definition. It's a marketing term and descriptor that's used to sell a particular type of product that allegedly does not contain specific, less-desirable, unwanted, or unnecessary ingredients. The meaning of "clean beauty" is entirely relative to how much the individual consumer knows about cosmetic ingredients or the intention of the brand using it.
Please fill in the blank as it pertains to something connected to your beauty self-routine, product or otherwise: I think about _____ a lot. Product and ingredient efficacy.
What is your morning grooming routine? Brush teeth, shower, apply Hydrating Accelerator and wipe it away with a dry cloth, apply my not-yet-released Daily Acid Toner, apply Hydrating Accelerator again, then Hydration Boost Concentrate, then Active Infusion Oil Serum, a dab of Vital Balm Cream to seal in the hydration and actives, and finish with Nutrient Day Cream SPF 30.
What's the last product you use every night? My Vital Balm Cream.
Favorite spa? I love Korean spas. My favorite is Century Spa on Olympic and Crenshaw. I'm quite the efficient spagoer. I go in, steam, get a body scrub and leave.
Fragrance of choice: Patchouli.
Bath or shower? I bathe a lot, and use my Balance Shampoo as a body wash as well. It's glorious. Also in there is my Enrich Mask Conditioner, my Complete Moisture Cleanse, Meow Meow Tweet's Soap, and Jordan Samuel's Caffé Body Scrub.
What was your first grooming product obsession? When I was 10, I discovered Aqua Net Extra Hold Hair Spray. It was only 99 cents. After that, I loved hair spray so much I spent $2.99 on a bottle of LA Looks hair spray. It smelled so much better and felt so high-end to me. When I was 12, I discovered Paul Mitchell products, which greatly influenced me.
Sunglass frames: Warby Parker.
How do you like your bed? I LOVE my bed. Avocado brand mattress.
How do you like your living room? I LOVE my living room. Really minimal, with just a sofa, a side table, books, and a plant. I hate clutter. The times when I've allowed it to creep in, I'll have this weird moment late at night when I'm like, "What is all this stuff doing here?" and throw it all in the garage.
What do you splurge on? Books, massage, groceries, and care for my dogs.
What do you scrimp on? Nothing really. But I'm not wasteful or excessive. I live fairly minimally.
What is your classic uniform? Madewell T-shirt and black skinny jeans.
What shoe are you usually wearing? Tom's.
What would the name of your autobiography be? Finding Beauty, Discovering Yourself.
Who would star as you in the film adaptation? Daniel Levy.
Favorite smell? The forest.
Least favorite smell? Probably excessive cologne or perfume, and car air fresheners.
What do you most often disagree with others about? How to drive.
What can't you leave alone? When I'm misunderstood.
Favorite CBD product: Anything with a 3:1 CBD to THC ratio for sleeping. It's changed my life.
What calms you down? I use my thoughts and breath to calm myself down.
Vice: Good wine.
Most impressive dish you make: Enchiladas.
What do you foresee as the top beauty and wellness trends for 2020? I think there will be less overconsumption, and more sustainable and environmental packaging and ingredients. More brand ingredient transparency. I foresee less of a taboo around plastic surgery procedures and cosmetic laser, radio waves, and ultrasound options.
What product in your own product domain is misunderstood and should be a best seller? I wouldn't say misunderstood, more like less known — the Hydration Boost Concentrate. It's a botanical hyaluronic acid and plant antioxidant serum. It's an incredible product at increasing skin water level with its rich polysaccharide constituents, and the results are profound. Not many people know about it yet, but it's truly incredible at improving skin function.
What product is currently your favorite (understanding that this could change all the time)? Hydration Boost Concentrate— I'm obsessed with it and its multifunction, high-performance results. It's irreplaceable in my routine because of its unique ability to deliver hydration and actives into my skin and reveal instant results. Effective skin hydration is imperative to skin health, function, and beauty. My absolute favorite product is one that's not out yet: Daily Acid Toner — it's the most mind-blowing, efficacious plant acid toner. The results are incredible and I know people will be obsessed with how it performs.
If you won the Power Ball tomorrow, what are the first five things you would do? (After, of course, donating the majority of it to your top charities …) I'd get a new Airstream Interstate RV and hit the road, hire a few more team members, buy a bunch of land in Oregon, and probably purchase a bunch of stocks.
Not to get too philosophical, but … what do you want? I want the world to be a better, safer, more peaceful place for all people, animals, and the planet. I want to write a book and I want to make the highest-quality, most effective products imaginable. I want to open a senior dog rescue and raise money for their medical care and find them new loving homes.