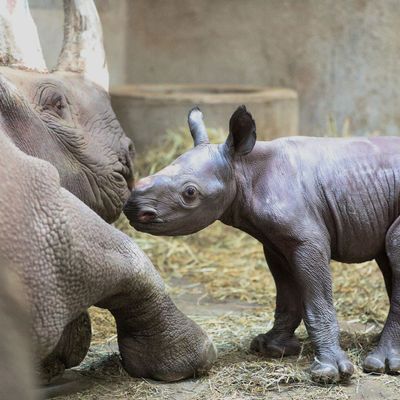 Photo: Kaiti Chritz/Courtesy of Potter Park Zoo
There are two forms of Christmas miracles that I accept: making it through the holidays without having an emotional meltdown, and the birth of a baby animal so undeniably adorable the Internet will tell me about it.
On Christmas Eve, such a babe was born: A rare baby black rhino began its life at the Potter Park Zoo in Lansing, Michigan. The male calf, which has yet to be named, was born to 12-year-old Doppsee and her breeding mate, Phineus. The Lansing State Journal reports that within 90 minutes of being born, the baby was already standing upright (you can view the calf's first steps and its birth on the zoo's Instagram, which streamed the blessed event). According to a statement released by the zoo, this the first rhino calf born on its premises in its 100-year history.
Pat Fountain, the zoo's animal-care supervisor, gushed to the Lansing State Journal that the birth is "very, very special," adding, "Today is a very exciting day, one of the best days of my career. They are such an endangered animal; it's a pretty big deal." Though the numbers of black Rhinos are rebounding, there were scarcely 2,500 of the native African species remaining in 1995, and there are fewer than 60 in captivity in U.S. zoos. It will not surprise you, then, to learn that Potter Park is the only zoo in the state of Michigan that houses the species.
Mother and child will be closely monitored in the coming weeks, but so far they appear to be bonding nicely. According to a press release from the zoo, "the rhino calf appears healthy, and we have observed frequent nursing shortly after the birth, which is encouraging."
The baby rhino has its health, its parents, and a ton of media attention — all he needs now is a name. Until then, I'm calling him Latke because of the hornless, pancakelike surface of his tiny head and because it's still Hanukkah, making this a double miracle.