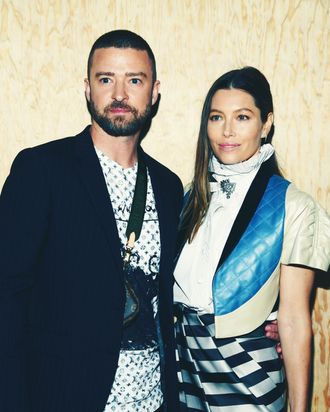 Justin Timberlake and Jessica Biel.
Photo: Pascal Le Segretain/Getty Images
Justin Timberlake has managed to stay out of the tabloid headlines for a good long time (since the days of double denim with Britney Spears and Nipplegate, really), but that all changed when he was seen holding hands with actress Alisha Wainwright, his co-star in the upcoming film Palmer. Photos published by The Sun show Timberlake, who is married to Jessica Biel, hanging out with Wainwright on the balcony of a New Orleans bar.
The images show Wainwright, who also stars in the Netflix series Raising Dion, resting her hand across Timberlake's leg. "At one stage he grabbed her hand and rested it on his knee. She then gently started stroking his leg," a source told The Sun. "Then he clutched her hand with both of his and was playing with her hands." He was also apparently seen without his wedding ring. Sources said that the 38-year-old actor had been "drinking heavily and was unsteady on his feet."
Immediately after the photos surfaced, a source told E! News that "there is absolutely nothing going on" between the two co-stars. "They were out with all the cast, crew, makeup artists, and everyone was just hanging out in a social setting," a source told the outlet. A rep for Wainwright also addressed rumors that questioned Timberlake's fidelity, telling People, "There is no validity to this speculation. They are currently working on a project together. Members of the cast and crew were all together."
Then, on the evening of December 5 — over a week later — Timberlake released a long statement on Instagram, insisting that nothing else happened between him and Wainwright, and apologizing for his "strong lapse in judgement."
He continued: "I apologize to my amazing wife and family for putting them through such an embarrassing situation, and I am focusing on being the best husband and father I can be. This was not that."
But it sounds like Biel isn't quite ready to fully forgive Timberlake. On December 19, nearly a month after the photos emerged, a source told Us Weekly, "Justin and Jessica are focused on mending any issues in their relationship right now, but Jessica is still in a place where she's very hurt and upset with Justin," adding that she isn't "letting him off easy."
Timberlake first met and began dating Biel back in 2007. The two were married in 2012 and share a 4-year-old son named Silas. In October, Timberlake spoke about his relationship with Biel during an interview with Entertainment Tonight. "It's like once you find that person, it's like a baptism, where you're like, I can't go back, you know what I mean?" he said. "Like, I don't, I can't go back, so, which is what fatherhood's like too."
This post has been updated.