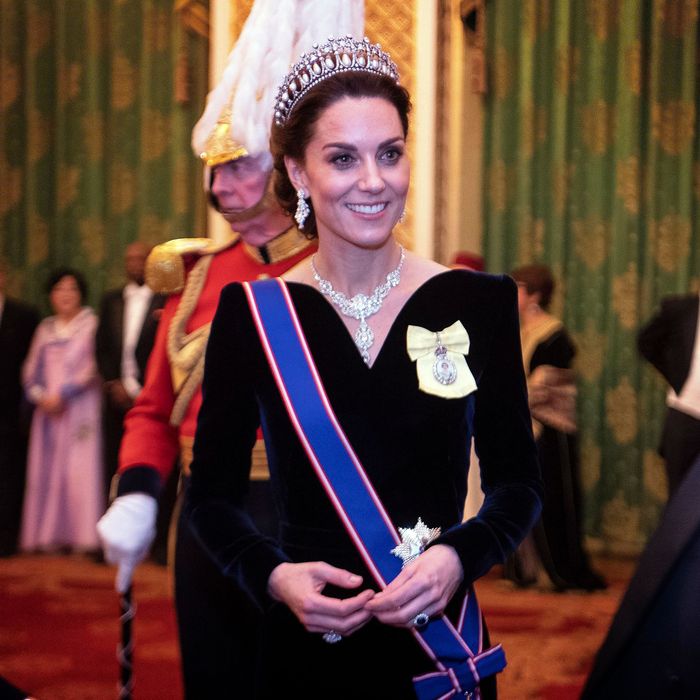 Photo: WPA Pool/Getty Images
Sometimes we interpret things incorrectly. Well-intentioned text messages are read with malice; meaningless comments interpreted as loaded; a child's first words are believed to be about British cooking personality Mary Berry instead of just something that sort of sounds like Mary but is easier for a child to pronounce. Though we may err, we're all just trying to figure out life as we go along.
Kate Middleton seems to have fallen into the last Mary Berry–related interpretation trap, and of course we understand. According to a report from People, in an upcoming BBC holiday special featuring her husband Prince William and Mary Berry, Middleton shared (what she believes to be) one of her son Prince Louis's first words.
"One of Louis's first words was 'Mary'," she told Mary Berry. Very flattering, of course, and I would have loved if instead it had been "Kelly." But does she have evidence that the Mary of which Price Louis speaks is the Mary Berry of Great British Bake Off fame? Middleton explained, "Right at his height are all my cooking books in the kitchen bookshelf." Uh-huh.
"Children are really fascinated by faces," she added, "and your faces are all over your cooking books, and he would say 'That's Mary Berry' … he would definitely recognize you if he saw you today."
So are we to believe he is able to read the name on the cooking books? And are the cooking books displayed width-wise, with their covers facing out? Does he know her face from television? Or does Kate Middleton regularly hold up a photo of Mary Berry and say, "This is Mary Berry"?
Of course, we'll never know. But I'm sure Mary Berry was flattered. And maybe that is enough.