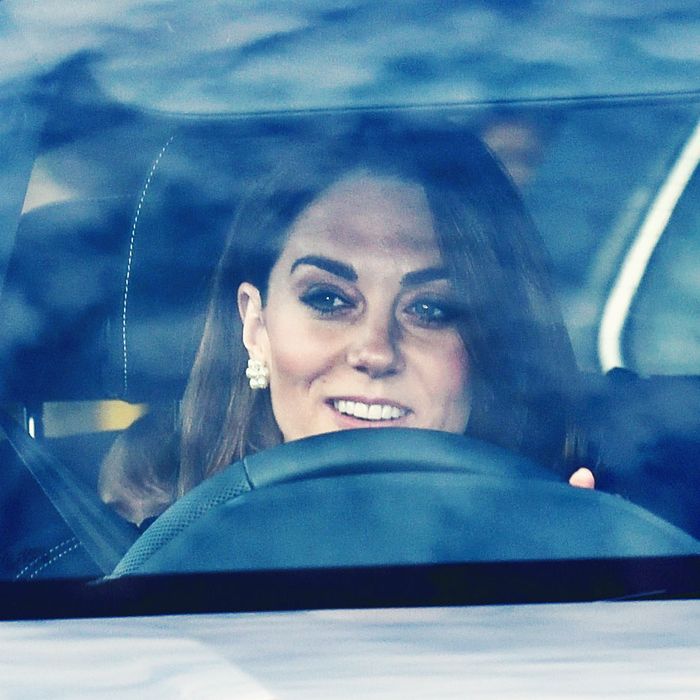 Kate Middleton? In a car?? Without her husband??? SMILING????
Photo: Karwai Tang/WireImage
The ghost of marital strife has visited Kate Middleton and Prince William this Yule, with TMZ reporting Wednesday that the pair arrived to the queen's Christmas lunch in — I am sorry to say it — different cars. According to the tabloid, Kate took Prince Louis and Princess Charlotte, while William chauffeured Prince George. Although they later left together, the sighting has apparently revived rumors of romantic tension between the royal couple, and, yeah, I think we can all read the writing on the wall. I mean, sure, they have three young children who maybe squabble sometimes, and freakishly grueling schedules that demand they tag-team a barrage of holiday appearances. But do you think their smiling-but-still-separate entrances can be explained by tricky logistics? TMZ does not.
Last year, you see, the Duke and Duchess of Cambridge managed to cram their whole family into one SUV. And keep in mind, during BBC's A Berry Royal Christmas special (which aired earlier this week), Kate seemed to shrug William's hand from her shoulder. Watch the clip below, and I think you'll agree: It's basically a 180 from that time, two months ago, when she brazenly touched her husband's shoulder in public. What in the HELL is going on?
According to Entertainment Tonight's sources, absolutely nothing. "The couple, unlike Prince Harry and Meghan Markle, do make a point to keep the PDA to a minimum in public events because they are the future king and queen," one insider insisted. "That's a conscious effort by the couple to be respectful of their role … Kate's mindful that she was being recorded by multiple cameras and just wanted to remain professional."
Considering the firestorm of whispers that last shoulder brush set off, her discreet swerve makes sense. I have no alternate explanations for the decision to drive to Buckingham Palace separately, except for all the ones about being very busy, mentioned above. I will say, though, that the Earl of Snowdon left lunch on a bicycle, and no one's giving him shit for it.