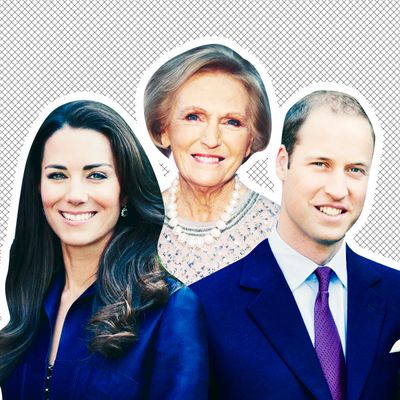 British baker Mary Berry has been busy since retiring from her role as Extremely Intimidating Judge on The Great British Bake Off. She's spent the last year working on two separate BBC series, and recently released her 70th-something cookbook. For her latest project, she's helming a Christmas special on BBC, and has been gracious enough to allow her friends Prince William and Kate Middleton to join her.
For A Berry Royal Christmas, William and Kate will work alongside Berry to prepare "a Christmas feast" for volunteers and charities that are busy over the holidays, including  the Passage charity, the U.K.'s largest charity for the homeless, and Action on Addiction, which helps people struggling with addiction.
It's unclear if Will and Kate have much in the way of cooking expertise, and as we've witnessed on Bake Off, even those with master baking chops often fail to impress Berry. Recall a controversial episode in which contestant Iain Watters was eliminated after he threw his melted baked Alaska in the trash, a decision which roused public outrage. (The event, known as "Bingate," has been named "the biggest scandal to hit the Great British Bake Off since Custardgate.")
But Berry has been friends with the royal couple for several years now; they first met at a charity auction in 2013, where Prince William reportedly asked the baking icon if she knew how to make "chocolate brownies." Perhaps she'll go a little easy on them.
A Berry Royal Christmas will air on December 16 on BBC One.