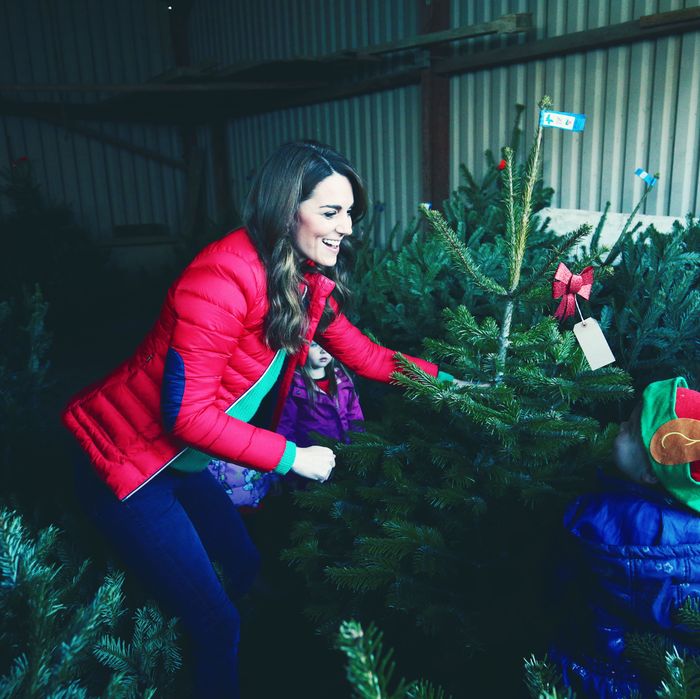 Photo: Jonathan Brady/Getty Images
Shhh. Is anyone looking at your screen? Please attempt to shield your device from prying eyes. I have a secret to share with you. It's Christmas-themed, and it comes from none other than Kate Middleton. Are you intrigued? Yes, I thought you would be.
The Duchess of Cambridge recently visited Peterley Manor Farm to help schoolchildren pick out Christmas trees for their classrooms. There, within Peterley Manor Farm, Kate Middleton let the farm's owner, a sweet-seeming man named Roger Brill, in on a confidential holiday tidbit.
"She was asking about the trees which drop their needles and those that don't, and which ones smell nice!," Brill told People, revealing Kate Middleton's first Christmas secret: that she has a preference regarding whether her Christmas tree drops or does not drop needles, and whether her Christmas tree does or does not smell nice.
"She said that they normally have the—" Brill said, about to share the reason why we've gathered here today. Do you have a guess at which tree Kate Middleton's family usually gets? Remember: it either does or does not drop needles, and it either does or does not smell nice. Okay. Here we go:
"She said that they normally have the Nordmann Fir inside, that doesn't drop the needles." Ah! This doesn't tell us whether they smell nice, but luckily there's an online source for that: The blog of a property maintenance company in England called Fantastic Services. In a post titled "How to Grow Nordmann Fir Trees," the company writes:
And if you are wondering whether Nordmann Fir Christmas trees smell nice, the answer is yes.
Well, there you have it. And please remember — this information is for you alone.