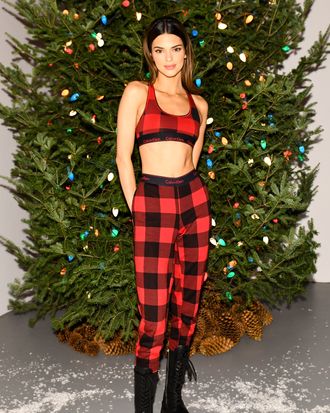 Photo: Zach Hilty/BFA.com
On Wednesday night, Calvin Klein celebrated the holidays and a new seasonal collection with a pajama party in New York City.
Before arriving at the event, all of the guests were gifted matching buffalo plaid pajamas to be styled to their individual tastes. The guests — most of whom looked impossibly chic in an outfit prone to making one look like a boxy child — paired the PJs with everything from leopard print, go-go boots, and leather, to T-shirts, Doc Martens, and bucket hats. Some opted to wear both parts of the set, while others chose only the pants or top. "I'm not wearing that Santa-Claus-ass outfit," said one attendee, who opted for the sweater alone.
Inside the event, guests were able to order customized briefs from a workshop of elven sewing machines, take photos on a giant bed, or drink rum and Cokes. Chic men in Calvin Klein trousers that left little to the imagination served hot cocoa and booze amidst plenty of fake-snow and Christmas trees hanging from the ceiling.
In a hotel suite prior to the party, departing a photo shoot as one of the many resident faces of #MyCalvins, Kendall Jenner reminisced with the Cut about the holiday season in the Kardashian-Jenner home.
Jenner said her favorite holiday tradition is her mother's Christmas Eve parties. "We've gotten even better at them recently," she said. "We have so much fun. And now we get a little drunk and have such a good time and are surrounded by so many fun people."
As for her favorite holiday memory? Probably the year her parents gifted her what all small children dream of: a pony.
"I'm a horse girl, literally. I grew up riding horses," she said, "So for my whole entire life I would beg my parents to please get me a pony. I wasn't just some little girl who was like, 'I need a pony for no reason.' It was my life. I ate, breathed, and slept horses. And I wanted one so bad."
On the first year Jenner didn't ask her parents for the specific pony she wanted, an equine named "Megan," she woke up on Christmas morning to find a "concession" gift waiting for her: a saddle atop an electric dirt bike. But at the bottom of the drive way was what she really wanted, Megan. "I was like, 'No, fucking way.' Well, I didn't say that. I was 12. But I ran outside, and as I ran out the pony whinnied."
Many of us will never receive the horse or other extravagant gift we always wanted in our youth, but Jenner understands that. As she told the Cut, "I'm very lucky. In our family, we all spoil each other."