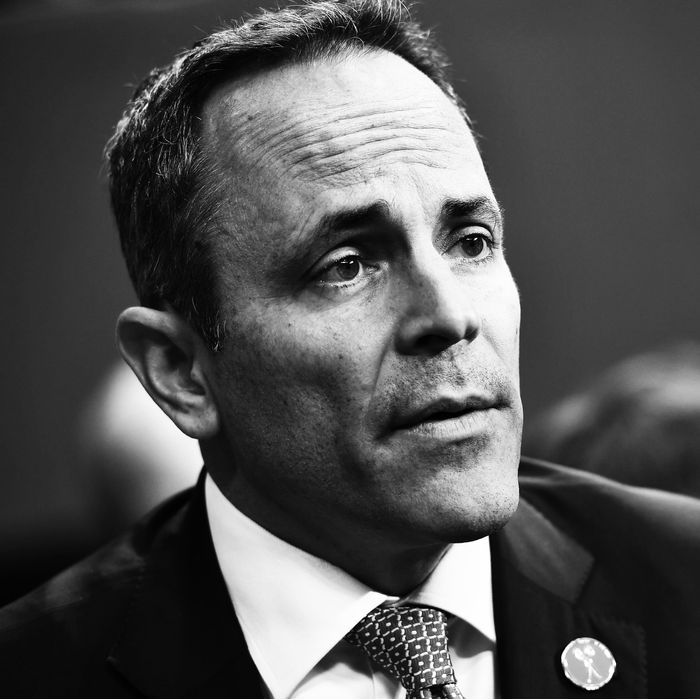 Former Kentucky Governor Matt Bevin.
Photo: MANDEL NGAN/AFP via Getty Images
Former Kentucky governor Matt Bevin, a staunch conservative who frequently touts his "pro-life" credentials, has drawn criticism for choosing to pardon hundreds of violent criminals during his last weeks in office. On Thursday, he gave a lengthy radio interview defending one particularly controversial pardon: that of Micah Schoettle, a 41-year-old man who was convicted last year of raping a 9-year-old girl. Bevin's reasoning? He doesn't believe the child was raped, because her hymen was intact.
According to the Cincinnati Enquirer, Bevin also revealed previously unreported details about the case, including the child victim's relationship to Schoettle, and the fact that the victim's sister was present during the assaults. (He also claimed that her sister denies the assaults happened.) "Both [girls'] hymens were intact," Bevins said. "This is perhaps more specific than people would want, but trust me. If you have been repeatedly sexually violated as a small child by an adult, there are going to be repercussions of that physically and medically."
But that's demonstrably false. Medical experts agree that so-called "virginity tests," which test for the presence of a hymen, are unethical, harmful, and based on flawed science. Former Kentucky chief medical examiner George Nichols told The Courier-Journal that Bevin's claim was categorically incorrect. "Rape is not proved by hymen penetration," he said. "[Bevin] not only doesn't know the law, in my humble opinion, he clearly doesn't know medicine and anatomy." (Per a survey cited by the Washington Post, only 2.1 percent of child rape victims had visible damage to the hymen.)
Even Kenton County Commonwealth's Attorney Rob Sanders, a former Bevin supporter who prosecuted the Schoettle case, has harshly criticized the former governor for his comments.
"So, I guess Matt Bevin thinks he's smarter than the 12 citizens that heard the actual evidence," Sanders, who's calling for an investigation into the pardon, told The Courier-Journal. "I've got news for him: Child molesting rarely happens in front of witnesses or leaves physical evidence. If we didn't pursue those cases, 99 percent of child rapists would never be prosecuted."
Meanwhile, the mother of Schoettle's victim is rushing to do whatever she can to ensure the safety of her child, who she says spent three years in therapy for post-traumatic stress. She told WCPO that she's currently trying to get an emergency protective order, and that she's considering moving the family to another part of the country.
"We just got to the point where we felt safe leaving the house and not looking over our shoulders," she continued. "Now that [Schoettle] got away with it, who's to say what he's going to do to another child?"
Schoettle, on the other hand, reportedly won't even have to register as a sex offender.