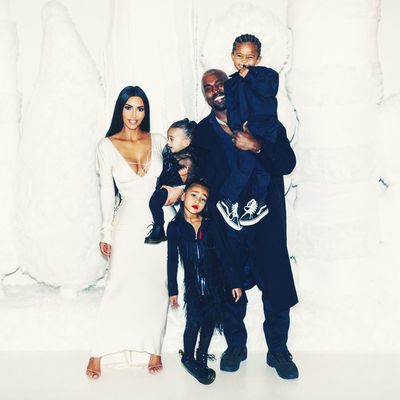 Photo: Kim Kardashian/Instagram
The Kardashian-West family has reportedly decided to celebrate the holiday season in the typical way they do things: in full, unrelenting monochrome and with extremely bizarre taste. Kim Kardashian West posted a series of stories on Instagram yesterday in which she displayed her holiday decorations, a line of tubelike plush white "trees." (They used the same ones last year for their Christmas Eve party, pictured above.)
"I love these. They're so whimsical, like Whoville, but all white," Kardashian West narrated, referring to the town populated by festive-obsessed creatures in Dr. Seuss's The Grinch Who Stole Christmas. "Whimsical" is one way to describe the hulking towers of white fabric — are they stacks of toilet paper? Giant bleached cacti? The gentle walls of an institution? A set of pristine dildos?
They certainly do look, um, very white in the smooth, cavernous, all-white hallways of the Kardashian–West Calabasas home.
Honestly, though, the "trees" most resemble the inside of a standard tampon once you push it out of its plastic applicator. And yes, it is indeed whimsical, as Kardashian West stated, to deck your halls with giant sanitary products, so that your house becomes a giant bathroom cabinet, and you and your kin are but a cluster of tiny Q-tips.
Not to have the monochromatic color scheme spoiled by the natural green leaves of a living being, Kardashian West also sprayed her Christmas tree white. "It's so pretty," she said.