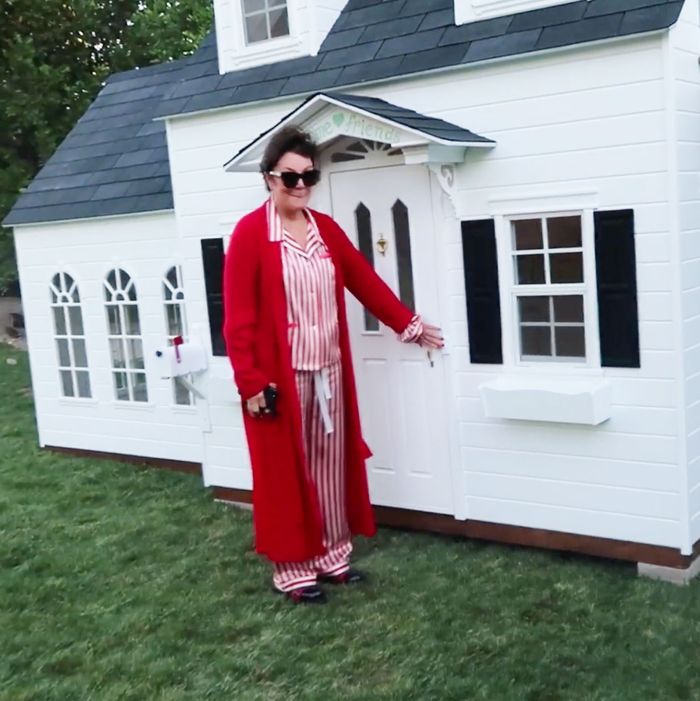 Welcome to Stormi's home.
Photo: Kylie Jenner/Youtube
I hope this is not too personal a question, but, where do you live? In a spacious and light-filled home perfectly proportioned to your size and specific needs? With a sky light AND a roof deck? Do you have a working doorbell? A simulation fire in a faux fireplace? I myself have only one of those amenities, which is why this child's playhouse is looking pretty appealing right about now. The only problem is that it already belongs to Stormi Webster, spawn of Kylie Jenner, but an adult woman can dream, right?
The playhouse in question features prominently in Kylie's latest vlog, a visual tour of her festively decorated home. Kylie shows us her department store-scale Christmas trees, her army of realistic polar bears, and then — surprise! — the separate Tiny House her momager, Kris Jenner, had installed in the backyard as a gift for Stormi, who is a toddler.
Kylie does not appear to have known that her daughter would be receiving a small suburban colonial beforehand, although given the fact that the Kardashian-Jenners trucked in an actual carnival for her first birthday, this extravagant present feels par for the course. Plus, Kylie explains to the camera, she used to have one just like it when she was "Stormi's age," which is to say, not quite two.
I'm not sure, but it sounds from Kylie's exchange with Kris like this might be the very same house? But whether or not it's the real deal matters less to me than the fact that it has functioning wall sconces and an air conditioner. Indeed, these are just a few of the alluring features you'll see catalogued during Kylie's video tour. Is the house large enough to fit at least a full bed? Yes. Are its ceilings tall enough to accommodate fully grown human, without even obligating her to hunch? They are. Does it have wood floors throughout? Of course. Is there loft space for minimal storage needs? No doubt. A fun-size fridge that is, unfortunately, about the size of the one that came with my apartment? Check. The only thing it's obviously missing is a working bathroom; otherwise, this palatial playhouse estate has basically everything I need to live comfortably for years. Provided the current tenant is willing to sell.