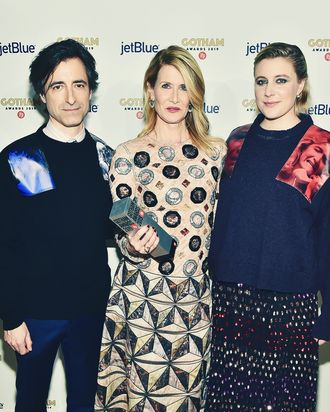 Photo: Theo Wargo/Getty Images for IFP
The holiday sweater received a high-fashion revival earlier this week at the Gotham Awards, when moviemaking couple Greta Gerwig and Noah Baumbach presented the 2019 actress tribute to Laura Dern. To honor Dern, who starred in both Gerwig's Little Women and Baumbach's Marriage Story this year, the couple wore sweaters with her face on them.
The matching knit numbers featured massive shoulder panels depicting scenes from two of Dern's most iconic roles in David Lynch's Blue Velvet and Wild at Heart, films she starred in in the late '80s and early '90s, which gained her cult acclaim.
The pieces are from Raf Simons's fall 2019 collection, a line that featured Dern's face on a number of sweaters and trench coats. Vogue notes that the actor even assisted Simons with licensing and other minutiae for the collection. Given that Simons is as staunch a Dern-head as the rest of us, we can only hope that a Big Little Lies–themed collection is forthcoming. I'd take a sweater emblazoned with scenes of Renata Klein screaming and smashing things with a baseball bat, personally.
Anyway, you can get a Laura Dern sweatshirt from Farfetch for a discounted $1,015. Or you could opt for a T-shirt for half the price — Kanye West wore one featuring a still of Dern from Blue Velvet a few months ago. If that's over budget but you still want to wear Laura Dern's face, I'd recommend one of these cry-face tees, which Dern herself has worn on occasion.