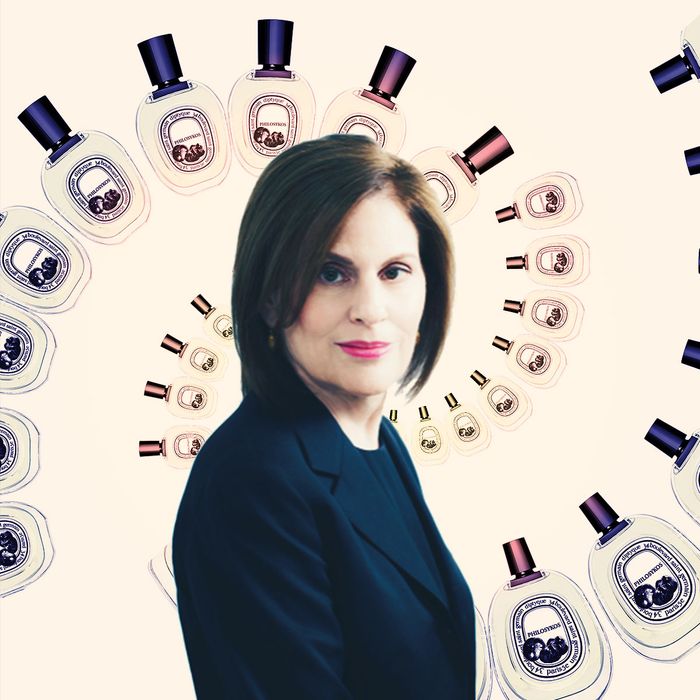 Linda Levy
Photo: Michael Avedon
Scientific studies confirm that, of all the senses, smell offers the best recall. In Scent Memories, the Cut asks people about the scents they associate with different times in their lives.
Next up is Linda Levy, president of the Fragrance Foundation, the official, not-for-profit organization of the fragrance industry. Earlier this year, the foundation chose NEXT for AUTISM as its Give Back Charity of the Year. Tomorrow, the two organizations are hosting their first event: Power Pedal, a 45-minute spin class at New York's AARMY, where participants will ride to raise funds for programs and initiatives that improve the lives of individuals with autism and their families (learn more and donate here). The Cut caught up with Levy to talk lilac bushes, hot-dog stands, and how to smell like you're on a Greek island.
My first scent memory is: My mother, who would splash on Jean Nate at our beach club cabana by the ocean. As a kid, I'd go into the ocean every single summer and whenever I think of the sea or my first memory, it's definitely this spicy, fresh, invigorating scent splashed onto salty skin.
Happiness smells like: A light, lavender field. My happiest moments, when I think about it, are about being in Seillans in the South of France. It's a teeny mountain village where the air is so clear, and I always remember the light lavender smell. It makes me very happy to go back there mentally at any time.
Love smells like: My husband, of course. Thirty-something years and going strong. Love to me is like a nice, warm, cuddly hug that probably has a little bit of Tom Ford sprinkled on it.
Friendship smells like: As a little girl, I was growing up in the suburbs and my next-door neighbor was my very best friend. We used to hang out in my backyard and there were a lot of lilac bushes, so whenever I think of a really good friend, I flash back to her and when the yards just smelled of lilacs.
Heartbreak or loss smells like: Cigars. Growing up, the biggest impact in my whole life was my father; he was my greatest supporter in the world. He used to smoke cigars in the backyard, at the beach, in the den watching ball games. It's sort of a melancholy smell of loss because he's long gone now, but he always smoked cigars and I actually now love that smell.
Success smells like: I can't help it, and I know it's very trite, but the sweet smell of success to me is sort of this combination of a candy smell and dollar bills. Freshly minted currency and the smell of a chocolate truffle mixed together.
Regret smells like: Popcorn. I'm the kind of person who likes to go to the movies alone and indulge myself to a huge amount. I love to cry at the movies. And while I'm crying there alone, enjoying this emotional thing, I really stuff myself with salty popcorn. I always overindulge on it. They give you those big tubs and there's no going back.
The worst smell is: Sauerkraut on one of those hot-dog stands in New York. Hate it.
Vacation smells like: Every year I go to the Amalfi Coast, so a combination of magnificent, flowing bougainvillea that just spreads itself over the walls and the smell of lemons.
Sunday morning smells like: Freshly ground coffee beans and warmed-up sesame bagels.
Monday morning smells like: Sunrise over the East River in New York; there's a certain smell to it. I do my exercises and stretching on the living-room floor and I open the windows and watch the sun rise.
My home smells like: I'm a bit addicted to Nest liquidless diffusers. There's a bamboo smell that I have that permeates my home and when I come home it's really a warm, enveloping feeling for me.
If I could have one smell on my hands forever, it would be: Aerin rose hand cream. It's one of the first things Aerin Lauder did and it's extremely light and delicate.
I smell like: I'm very lucky. I live my life in the candy store of fragrance, so every day I wear something different. But every single morning when I get out of the shower, I moisturize my entire body, so I've got two favorites. Every day, the first layer is Origins Precipitation, which has this slight, slight scent to it of sunflower, ginseng, and some kind of sage thing. Alternately, now that it's getting colder, every other day I'll use Costa Brazil Jungle Firming Oil, which has rosewood and all these other good smells like balsam in it. That's my first layer, and then the rest of the day is just one wild surge into smelling. Today, I have a potpourri of things in front of me, but I'm wearing Philosykos from Diptyque. It's not the newest but it's one of my favorites. It smells like you're on a Greek island. It was cold walking in, so I had to take a spray of this.
If you buy something through our links, New York may earn an affiliate commission.