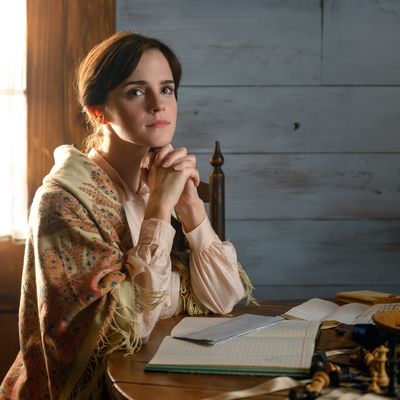 Among its many modern updates, Greta Gerwig's Little Women offers a more stylish take on late-19th-century New England dressing than the film's previous iterations. While we get the same hoopskirts and breeches, it's easy to see that this version of the March sisters' wardrobes contain various items — jackets, dresses, and hats — that could easily be slipped on today. And it occurred to me while watching the film that for all their talk of poverty, the March girls cultivate that coveted boho-kitsch look characteristic of women who shop exclusively at stores like Anthropologie.
The "Anthro" look, as I hate to call it, is tricky to nail. It's all mixed fabrics and prints; a shawl from your grandmother's closet paired with a lobster-printed skirt; jackets that look like curtains and socks that look like you knitted them yourself (you didn't). The whole effect suggests an "I just threw this on!" whoopsie daisy aesthetic, though it's actually thoughtful and extremely expensive.
Save for Meryl Streep's Aunt March, whose dour Havishamian dressing is, in a word, goth, Little Women is full Anthropologie: It's in the tweed, the pearly buttons, and the puffed-sleeve lace blouses both Jo and Laurie favor (you can get pretty much the exact one at Anthro for $100).
It's in Marmee's chiffon dresses and their little velvet pussy bows; it's extremely in the forest-green housecoat with gold piping that Jo throws over her nightgown; it's in the March girls' shawls, embroidered with casually exotic prints that seem like they might be a stretch for 1890s Massachusetts.
That's not to say the wardrobe is inaccurate. The cast was dressed by veteran costume designer Jacqueline Durran (she's responsible for that green dress in Atonement) who researched the fashions of the period and drew on images of what artists and radicals were wearing at the time. All I'm saying is that if you saw the movie and feel inspired, Anthropologie is having a sale right now.