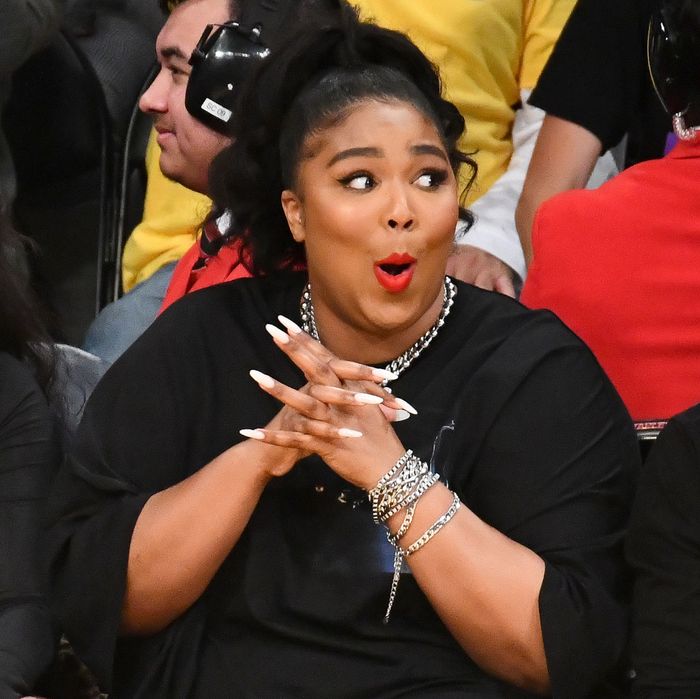 Lizzo at the Lakers game on Sunday night.
Photo: Allen Berezovsky/Getty Images
Everyone knows that courtside seats at basketball games are useful for watching sports, but better for seeing and being seen. As someone who loves to be seen, and is generally loved by those who see her, Lizzo took full advantage of her prime perch on Sunday night at the Lakers versus Timberwolves game in Los Angeles.
In addition to zooming in on players' butts and posting the videos to her Instagram Stories (thank you, Lizzo), the Grammy-nominated artist also put on a show of her own. That night, the Laker Girls were slated to perform to her song "Juice." When they did, she jumped up from her seat to join in, revealing that her black T-shirt dress had a convenient cutout in the back, which highlighted her black thong underwear.
The crowd cheered as Lizzo did her thing, and many reacted positively online as well, but some were more scandalized. Responses to a tweet from Barstool Sports with footage of Lizzo dancing, for example, revealed just how sensitive Barstool Sports followers are, but you already knew that. (You'd think some people had never seen Lizzo's butt before!) By morning, her name was trending on Twitter, with discussions of race, body-shaming, and what's appropriate to wear to a basketball game.
Lizzo responded with a livestream Instagram video, saying: "Who I am and the essence of me and the things I choose to do as a grown-ass woman can inspire you to do the same."
"Your criticism has no effect on me," she continued. "Negative criticism has no stake in my life, no control over my life, over my emotions. I'm the happiest I've ever been. I'm surrounded by love, and I just want to spread that love — and also spread these cheeks. And you know what? If you really, really don't like my ass, you can kiss it. 'Cause kissing it makes it go away. I promise."
This article has been updated.