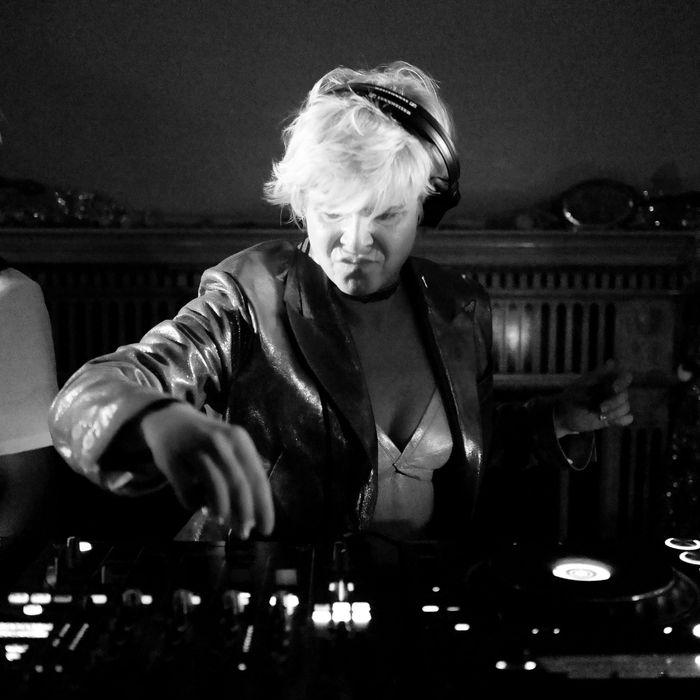 Robyn. \
Photo: David X Prutting/BFA.com
It's a tough ask to get people to come to a party uptown, and an even tougher ask when it's sleeting outside and it's a Tuesday night. But last night, a ton of celebrities packed into the Fletcher-Sinclair mansion to celebrate the holidays with Jonathan Anderson and Loewe. Guests were rewarded for their efforts when, upon entering the space, they were greeted by Jennifer Coolidge wearing a pink feathered dressing gown and surrounded by blue-sky paintings and fluffy clouds, like being inside a diorama.
Each floor brought new delights. The fringed chandelier stretched from the bottom story (with Coolidge and the clouds) to the top. In between was a piano bar covered in fake grass and a floor covered with balloons that looked like the mushrooms out of Alice in Wonderland. Robyn performed, Kiddy Smile DJ-ed, and a man at the piano sang '80s classics like "Wake Me Up Before You Go-Go." Tessa Thompson, Megan Rapinoe, Kaia Gerber, Maggie Gyllenhaal, Chloë Sevigny, and Lucy Boynton were all there. A dozen people were out on the steps of the mansion to smoke cigarettes (no smoking inside, much to many people's disgruntlement).
The party was held ostensibly to celebrate the holidays but also the new Loewe store on Greene Street in Soho. The brand's first New York outpost feels strangely homey for a big luxury store and is decorated like the house of your very cool friends who have been collecting art from their trips around the world. Indeed, the walls were inspired by European cider presses, and the floors are partially made of Spanish limestone. Many guests stopped by the store before going uptown to the party (servers at both locations wore skeleton-print knit sweaters and skirts, making for a nice note of continuity). However, if you stop by 79 Greene Street, Jennifer Coolidge will not be waiting at the door for you … most likely.