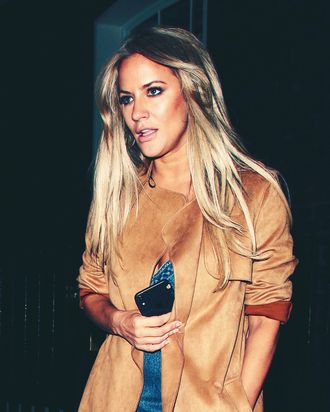 Caroline Flack
Photo: Ricky Vigil Moran/GC Images
Love Island — the U.K.-based reality-dating phenomenon in which bathing-suit-clad contestants sip from personal water bottles like giant orange babies, while saying things like "He's fit, innit" — is a veritable smorgasbord of drama. Regular viewers of the show will be familiar with antics such as drink-tossing and people screaming about being something called "mugged off."
But those of us who dedicate 50-plus hours of our time to this spectacle every summer are not used to the dramatics ever involving Love Island host Caroline Flack, its charming blonde presenter. The Love Island community was understandably rocked by news that Flack was arrested Thursday for assaulting her boyfriend.
So what the hell happened, bruv? Who is Caroline Flack? Is it true she once dated some extremely famous men named Harry? Is Love Island in jeopardy? These are the questions I'm sure you're dying to have answered, and we are here to help.
Who is Love Island host Caroline Flack?
Flack is a British TV presenter famous, mostly, for hosting Love Island, which became a huge international hit in it's fifth season last summer. On Love Island, she helps pair up hot people who "fall in love" and win £50,000, but in real life she's known to be a bit unlucky in love herself. Flack, 40, has had a series of high-profile relationships, including with Harry Styles (2011, when she was 31 and Harry was 17) and Prince Harry (2009). She was engaged to Celebrity Apprentice and Big Brother star Andrew Brady in April, but she broke up with him after discovering that Brady had met with producers of a dating show. In August, she started dating Lewis Burton, 27, a model and former professional tennis player.
Why was Flack arrested?
In the early morning hours of December 12, Flack was arrested for "assault by beating" at her London home after allegedly attacking an unnamed male victim, who was not seriously injured. Though Flack initially kept silent about the incident, and stayed off social media, multiple outlets reported that the man was Burton. The Sun claims that sources say that Flack threw her phone at Burton after discovering flirty texts between him and an older woman.
The Daily Mail has reported that Burton does not want to press charges. He spoke out for the first time today, posting on his Instagram Story that he was "tired of the lies and abuse aimed at my girlfriend." "This is not a witch hunt, this is someone's life," he said. "Caroline is the most lovely girl. Loyal and kind. She doesn't deserve any of this." Flack's reps have confirmed that "police attended Caroline's home following a private domestic incident" and that she is "co-operating with the appropriate people to resolve matters." She is set to appear in court on December 23.
What about her ex?
After the news of Flack's arrest made the rounds, Brady posted screenshots of what appears to be a nondisclosure agreement on Instagram with the hashtag "abusehasnogender." The implication of the post seems to be that Flack had required him to sign such a document while they were dating; he also wrote on Twitter, "Sad that I am not more surprised by the news." Neither Burton nor Flack has commented directly on Brady's post.
Is Love Island in trouble?!
Love Island isn't, but Flack's hosting gig is; on December 17, Flack announced via Instagram Stories that she would be stepping down from her role ahead of season six, which is about to film in South Africa (as the inaugural Winter Love Island). "Love Island has been my world for the last five years, it's the best show on telly," she wrote. "In order to not detract attention from the upcoming series I feel the best thing I can do is to stand down for Series 6. I want to wish the incredible team working on the show a fantastic series in Cape Town." It's unclear whether Flack might be able to come back after attention to her criminal case dies down, but bosses at ITV, the channel that airs Love Island in the U.K., seem to support her: "We will remain in contact with her over the coming months about future series of Love Island," the network said in a statement.
This article has been updated with new information.