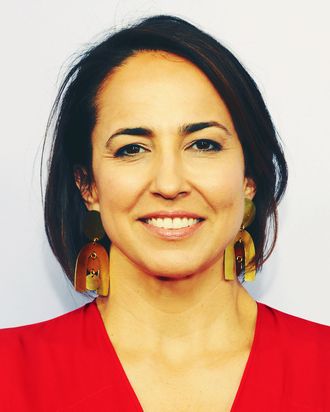 Photo: Desiree Navarro/WireImage/Getty Images
On Monday morning, it was announced that Marie Claire's longtime editor-in-chief, Anne Fulenwider, is stepping down at the end of the year to launch an entrepreneurial venture focused on women's health. She will be succeeded by Aya Kanai, who has served as the chief fashion director of Hearst Magazines since 2016.
"I've loved every minute of my time at Marie Claire, and I'm so proud of all we have accomplished," said Fulenwider, whose contract with Hearst is up at the end of the year. "I've had an amazing 25 years in media business, and I'm very excited for all that this next chapter will bring."
Fulenwider was appointed editor-in-chief of Marie Claire in 2012. Over the course of her seven-year leadership, the magazine was nominated for multiple ASME awards, including General Excellence in 2017 and Cover of the Year in 2018. She also started Power Trip, a 36-hour, invite-only networking conference for women. It was her interactions with its participants, she says, that inspired her to go out on her own.
"I've been intrigued by the health-care world and what the rest of my life will be," she told the Times of her future venture, declining to go into details. "Watching the women in my family go through various health issues, an idea started percolating."
Kanai, meanwhile, started her career as a fashion assistant and then accessories editor at Teen Vogue. Over the course of her career, she's toggled between magazines and fashion brands, working as stylist and consultant for names like Cole Haan, Bloomingdale's, and Target before becoming the style director for Amazon's Shopbop in 2012. The following year, she was appointed fashion director at Cosmopolitan. She then went on to oversee fashion content for multiple Hearst publications, including Cosmopolitan, Women's Health, Seventeen, Good Housekeeping, and Woman's Day. 
"Aya is a superstar editor, strategist, and stylist and an incredibly positive and enthusiastic person," said Hearst Magazines president Troy Young in a statement on Monday. "She's been an editorial leader at Hearst Magazines for over six years, and she has a wonderful eye, both for content and for talent. As with everything she does, Aya's taking on this new role with energy and excitement and will inspire everyone around her."
"Marie Claire has been about global female empowerment since 1937," Kanai added. "I'm excited to lead a brand with so many sisters around the world. The Marie Claire woman is confident and clear-thinking, whether it is about her career, the makeup and skin care she uses, the clothes she wears, or the technology that powers everything she does. With a growing experiential business, this is a 360-degree brand that speaks to enterprising women on the rise."
Kanai's first day as editor-in-chief will be in January.