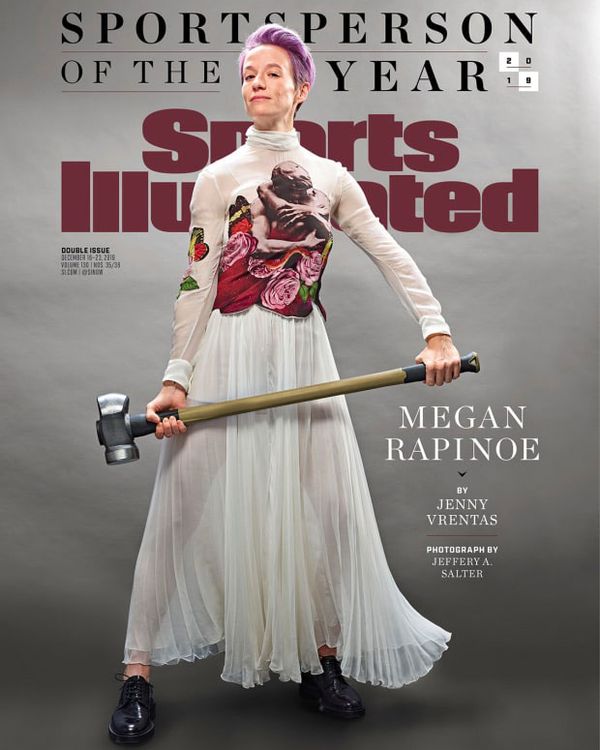 Megan Rapinoe on the cover of
Sports Illustrated
magazine.
Photo: Sports Illustrated
Monday morning was a big day for magazine covers: Cardi B cradled Kulture on the cover of Vogue, Beyoncé posed for Elle, and Megan Rapinoe was named Sportsperson of the Year by Sports Illustrated magazine, making her just the fourth woman in the award's 66-year history to win the title unaccompanied.
Rapinoe may not be quite as famous as Cardi or Beyoncé, but since leading the United States Women's Soccer Team to (yet another) World Cup victory this year, she has become a household name. As a celebrity, she has come to stand for more than just athleticism: She's also an activist, a style icon, a hair inspiration, a hot fiancée, and an all-around laudable public persona.
Her Sports Illustrated cover sums this up nicely. Wearing a sheer white turtleneck (!) gown from the fall 2019 Valentino ready-to-wear collection, Rapinoe holds a giant, heavy-looking sledgehammer with ease and has a smirk on her face. (What has she been smashing with that thing? Oh, I don't know, maybe the patriarchy???) The graphic print across her chest features some roses and an image of what looks like Rodin's famous sculpture The Kiss. It's lovely and romantic, and the colors highlight her neon-pink hair, but it's also an image of strength — of opposites coming together to create something solid and whole.
As someone who used to steal her brother's Sports Illustrated magazines growing up, I can imagine seeing this cover as a kid and feeling validated by it. Rapinoe looks simultaneously strong and graceful. In another image, she screams and flexes her muscles while gripping the bottom of her flowing gown like a woman about to curtsy. We've seen Rapinoe in a suit and she looks glorious. But she can appreciate a beautiful dress, too.