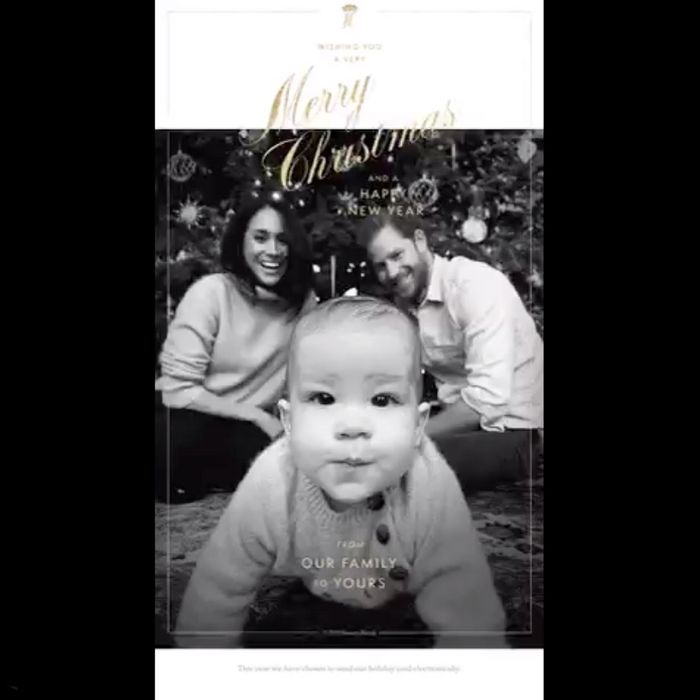 Photo: @queenscomtrust/Twitter
Meghan Markle and Prince Harry's Christmas card is extra decked out this year since it features for the first time their 7-month-old baby, Archie. In fact, the royal babe, who, by the looks of it, has learned to crawl, is front and center, adorably staring down the camera, which means nothing to him. Nonetheless, he appears curious, a little quizzical, and serious in contrast with his parents' obvious joy. Meghan and Harry lounge in the background by the twinkling Christmas tree, chuffed to bits.
On the second night of Hanukkah, a Monday, the Queen's Commonwealth Trust publicized the card on its social-media platforms, tweeting, "Just sharing the sweetest Christmas Card from our President and Vice-President, The Duke and Duchess of Sussex. Very Merry Christmas, everyone!" The Guardian reported that the card was emailed to friends and colleagues of the couple on Monday and more traditional hard copies sent to the family.
The card's caption reads, "Wishing you a very Merry Christmas and a Happy New Year. From our family to yours." It's a fairly casual card from one of the most highly scrutinized nuclear families in the world. Young as he is, wherever Baby Archie goes, a fandom follows, guaranteeing he'll set trends (like baby overalls) and alter the course of the news cycle.
Kate Middleton and Prince William's holiday card, which was leaked last week, is a bit more detailed, picturing the parents with their three children — George, Charlotte, and Louis — and a motorcycle.