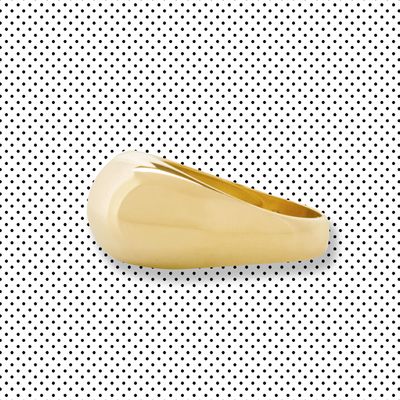 Photo: Courtesy of the Retailer
If the growing number of online vintage shops is any indication, everyone is clamoring for vintage. There are a few obvious reasons for this: It's a more sustainable way to shop, it seems like everything was made much better back then, and it makes for a good story. Telling a coworker your Prada bag came from a little vintage store in Italy is a better conversation starter than admitting it came from the mall.
But shopping for that elusive vintage find is time consuming. And even if you happen to find a gem online at a place like Etsy or Instagram, things tend to sell out quickly. As much as I love vintage, sometimes I just want a shortcut, and that's where Mejuri comes in. Its jewelry often looks like heirlooms you could find in some tiny shop in another country but without any of the digging.
This gold bubble ring is the one of my vintage dreams. It's the right amount of sculptural and minimal. It's so sophisticated I wouldn't ever want to pry it off my finger and wouldn't need to because it goes with everything. While you can buy the 14-karat-gold version for $290 — still reasonable for solid gold — the ring in vermeil (gold layered over sterling silver) will set you back only $60. To keep vermeil in its best condition, remember to take it off before washing your hands or when applying cream to prevent the gold plating from fading. Give it to your vintage-obsessed friend who dreams of antique shopping in Paris, exotic origin story not included.
If you buy something through our links, New York may earn an affiliate commission.